It looks as though one of my websites was given a bit of a slap on the wrist by a Google Panda update that was rolled out last month (February, 2014). In the space of a week, the site in question dropped from 70'000 search impressions per day to about 45'000.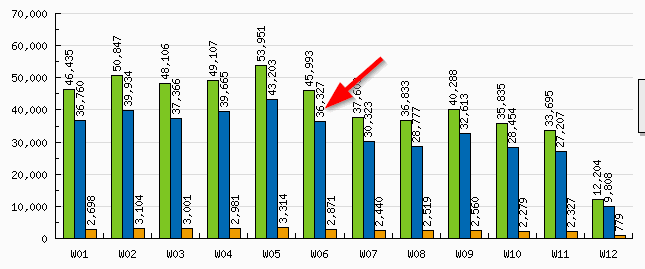 Firstly, let me state that I wasn't up to anything shady and that I genuinely thought that I was playing it by the book. Unfortunately, at this stage, I can only make guesses about what actually caused it. For us webmasters, it can be extremely frustrating as there is little-to-no feedback given when Google decides to take you down a notch. There are a multitude of possible things that might attract Google's ire, with new ones being added along the way.
The site in question is a Gif Blog, so it isn't exactly "valuable." i.e. There is little money to be made in this area, simply because:
Low CPM. Much lower than what I've witnessed on some of the other topical websites that I run.
Users searching for gifs seem to be pretty tech-savvy, which means that ad CTR is low and a lot of visitors come equipped with Adblock.
The operating cost of a gif website is slightly higher than that of your average website. Some of the files can be 8MB in size. If 1000 people view a 5MB gif, that's 5GB of bandwidth.
A lot of visitors will share your content by linking directly to the image. You'll find that linking to the page is actually frowned upon by a lot of "gif enthusiasts", many of which will demand that it be uploaded to imgur or i.minus.
With the implementation of Google's new image search (which rolled out in January of 2013), visitors don't even need to visit your website in order to view or download the gif that they want. This is because Google's new image search basically hotlinks your images.
Back when I was trying to figure out ways to better monetize the site, I came up with the idea of including Amazon Associate links to products that were related to the content of the gif. For example: If the gif in question was from the movie Friday, I'd post a link to the DVD on Amazon, in the hope that somebody might purchase it (all of this turned out to be a complete failure, by the way). Note:
Only a small amount of posts had affiliate links.
The affiliate links in question were given the rel="nofollow" tag.
I also linked out to other reputable websites (IMDB and Wikipedia, etc).
My guess is that too many of my "more-recent" posts had affiliate links. That, plus thin content probably sealed my fate.
Thin content.
The problem with running a gif website is that there isn't a lot to write about. Writing a 300+ article for a reaction gif would be a tad bit ridiculous. Beyond describing it and giving the user information about the source, there's not much more that you can touch on without it coming across as fluff.
Now what?
The first order of business was to remove all affiliate links. Whether or not that will allow the site to bounce back remains to be seen. Another frustrating aspect about trying to recover from a Google Panda update is the fact that changes can take time. This is because any change that I make will undoubtedly take a couple of weeks to filter through. So, between now and then, I will be left hanging in some of limbo where I'm wondering if "my fix" was successful or not.
If that doesn't work, then I'll have to rethink my linking out policy. In the weeks leading up to the update, I had started to gratuitously link out to related content (mostly Wikipedia and IMDB, to be fair). While this is a fine practise to have; it might not sit well with Google if the textual content is extremely thin.
If THAT doesn't work, then I'll have to trawl through some of the links that are pointing towards my site. In the past, I've noticed that a few spammy "free host" domains were pointing crappy links towards the site. Using the disavow tool, I was able to tell Google to completely ignore those links. Six weeks later, my most popular page had regained its ranking (yes, this isn't the first time that I've been struck by bad luck).
Over the next month or two, it will be interesting to see if the site actually recovers the rankings it lost. If not, maybe "thin content" was the end all and be all.
Facebook Comments