This is a simple guide on how to improve / optimize your Adsense revenue.
Related: Looking to estimate your potential Adsense earnings?
Firstly, let me just note that Adsense revenue can rise and fall throughout the year, depending on the level of advertising and the amount that advertisers are willing to bid. For example, many webmasters have noticed that their Adsense earnings decrease in January, even though they had been steadily building in the lead up towards Christmas. This is perfectly normal, simply because advertising in general tends to fall after the holiday season. This affects all areas of advertising; and not just websites. All in all; it's important to remember that you can't fully control how much money you make via the Adsense programme.
Ad Size
The ad sizes you choose will have a huge affect on the amount of money you make via Adsense. If you take a look at Google's page on "Most successful ad sizes", you'll see that certain sizes and dimensions tend to perform better. Google themselves recommend the following units:
336×280 Large Rectangle.
300×250 Medium Rectangle.
728×90 Leaderboard.
160×600 Wide Skyscraper.
Having used various sizes on various different websites over the past couple of years, I can't fault the above selection. Speaking from my own personal experience, these units have always out-performed their counterparts.
Ad Placement
Remember that the vast majority of your visitors will read from left-to-right, from top-to-bottom.
For example: An advert that is being displayed in the right column is unlikely to garner as much attention as an ad unit that is being displayed in the left column. Likewise, a header ad is going to out-perform a footer ad, simply because most visitors will never scroll down as far as the footer (especially if the content in your sidebar is longer than the main content of your page).
Once again, Google has a guide on ad placement. You should definitely read it if you haven't done so already.
Once of the best ways to optimize your advertising revenue is to try and integrate your ad units into your content. This way, visitors are less likely to ignore them. NB: Do not sacrifice your content just so you can make a few extra bucks. Pushing your content below the fold can backfire, especially if Google hits your site with a penalty that negatively affects your search rankings!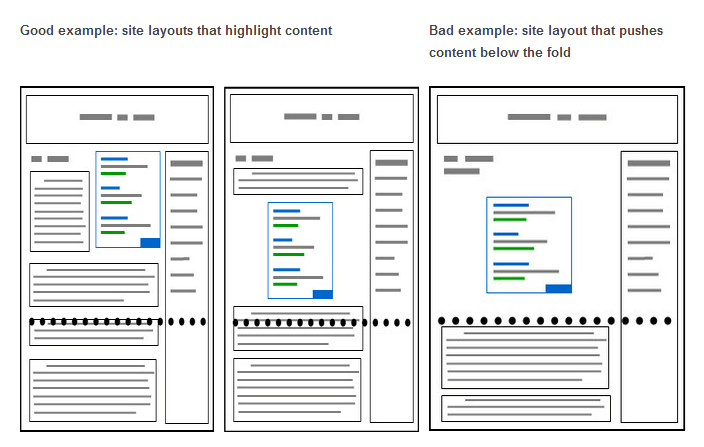 Integrating your advertisements into your content can lead to a rise in earnings, simply because a lot of Internet users have become blind to "banner" advertisements that are located in the header or the sidebar.
Number of advertisements.
It goes without saying that a website displaying three ad units is likely to earn more than a website that only displays one advertisement per page. According to Adsense policies, you can display three ad units per page. If you attempt to display any more than that, surplus ads will be automatically substituted with a blank spot.
Blend or contrast?
Should you make advertisements stand out or should you attempt to blend them in with the color scheme of your website? This is a bit tricky, as the answer depends on the type of website you have.
If you have a light background, you should attempt to make advertisements blend in with the color scheme of your website. If you have a dark background, then you can choose to blend, contrast or compliment. A basic overview of the terms:
Blending: Adsense units will have the same background color as the background of the page that they are placed on. They'll also have the same text and link color as the rest of your website.
Contrasting: Different background colors – Allowing the advert to stand out.
Compliment: The same text and link colors are used, but the background and border is slightly different, allowing it to stand out a little more.
Content.
The amount you earn can be heavily dependent on the type of content that you are displaying. For example, a website relating to lawyers or law in general is likely to earn you more than a website that is centred around video games. This is because advertisers are willing to pay more to place their advertisements beside law-related content than video-game-related content.
Note that it's not as simple as "writing about law because I want to make more money." These are highly-competitive search terms and you're not the first person to get this bright idea. Realistically speaking, it is unlikely that you will rank well for these keywords in search engines. Basically: The higher the earnings, the bigger the competition.
Testing.
If you're unsure about what colour scheme to use; or if you're wondering about where you should place an ad unit, then you should run some tests for a week or two, just to see what gives you better results. If you read Google's guide on A/B testing, you'll see that they recommend that webmasters experiment with different ad units and whatnot. Trial and error can go a very long way in this game.
More traffic.
"Well, duh!", I can hear you say. Unfortunately, I had to state this, simply because it is true. Generally speaking, your earnings will increase along with your traffic.
However, there is a bit of a caveat here. For example: If a law-related website and an animated gif website both receive 1000 views per day, who do you think will earn more with Adsense? That's right: The law site, simply because it will have a higher CPM (cost per 1000 impressions). As I said in an earlier point, certain content will earn far more than others, simply because advertisers are willing to pay more to place their advertisements beside it. Therefore, it is fair to say that traffic isn't aspect that affects your Adsense revenue.
Search Units and Ad Links
Adsense offers more than just ad units:
Adsense Search: This allows visitors to search your website via a customized Google search page. Google will display advertisements above these results.
Link Units: These are links that will bring the user to a page that displays a list of related advertisements.
You should think about integrating search and link units into your website if you are trying to optimize and increase your Adsense earnings.
Show both text and image ads.
A lot of people seem to be under the impression that limiting adverts to text or images will result in an increase in revenue. Unfortunately, these people seem to be a bit misguided. Like I said, you can test all of this out if you want – However, it must be said that restricting yourself to one format or the other can result in a loss of earnings, simply because you might miss out on a higher bid. For example, if you are limiting Adsense to "just images", then textual-based adverts will be excluded, even if they've put in a higher bid.
Responsive design.
Having a mobile-friendly site is important in this day and age. Mobile usage of the Internet is rising, fuelled by the emergence of smart phones and cheaper mobile data plans. Simply put: It is time to accept the fact that a large amount of your visitors will be browsing your website via their smart phones and tablets. You will need to adapt to this.
Mobile-friendly websites tend to fare better in mobile search results.
Making your website mobile-friendly / responsive will make it easier for people to share your content via social networks such as Facebook and Twitter.
If a mobile user lands on a website that isn't responsive, there's a good chance that they'll hit the back button. This means that they won't be engaging with your content and your CTR will suffer as a result.
Thankfully; Adsense has recently rolled out responsive ad-types, which will automatically resize to fit the size of the user's screen. This means that you can avoid a situation where you are losing out on potential ad revenue from mobile visitors.
Comments
comments