This is a guide on how to add text to your videos on TikTok. This can be particularly useful if you want to point something "extra" out or add subtitles for clarity.
Step 1: Record your video.
Firstly, you will need to record your video. The text options on TikTok will not appear until you have recorded some footage or uploaded something from your gallery. Text can only be added in the "editing phase" of creating a TikTok video.
Once you have recorded your video, a red check button should appear in the bottom right-hand corner. This button confirms that you are happy with your footage and want to progress to the "editing" stage.
Step 2: Click on the "Text" option.
In the editing section, there will be five options at the bottom of the app:
These options are "Sounds", "Effects", "Text" and "Stickers". Furthermore, there will be a red "Next" button to the right. Obviously, in your case, you will need to click on the "Text" option. After that, the keyboard will appear and you will be able to enter your chosen text.
Step 3: Write your text and press "Done".
At this stage, you can enter your text, change it's color and modify it's font style. You can also add a border and choose it's alignment.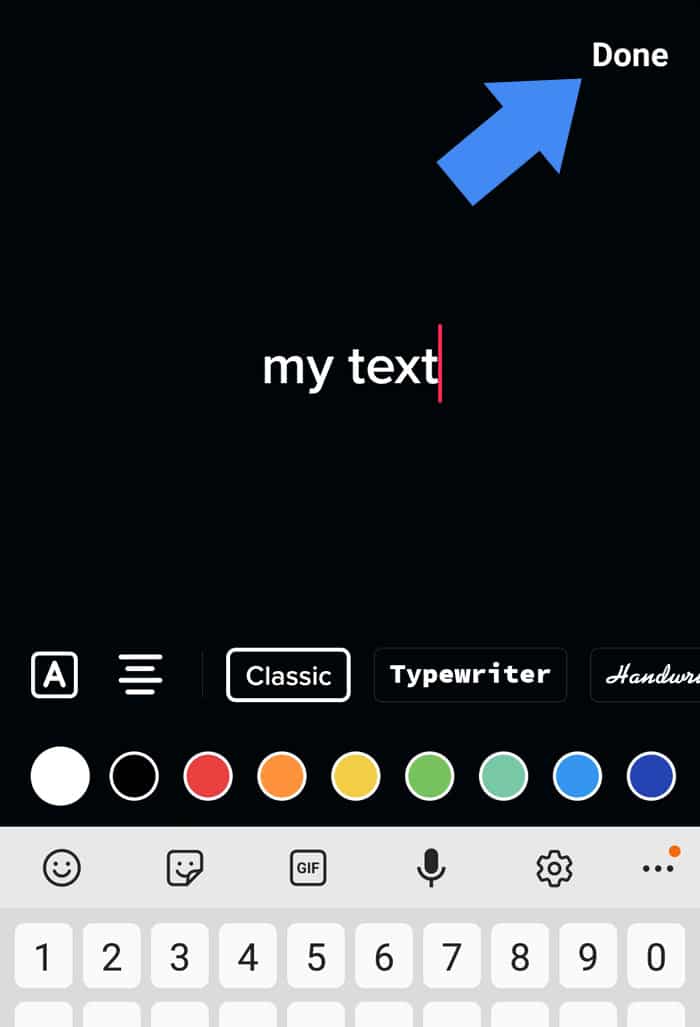 Here you can see that I have entered "my text". You can also see that there are various options just above the keyboard. For example, I can change the font style by clicking on "Typewriter" or "Handwriting". To change the font color, you can simply click on one of the colored circles at the bottom.
If you want your text to have a border around it, you can click on the circled A button on the left.  Tip: You can tap this A button multiple times in order to change the style of the border or remove it completely.
Once you are happy with the text that you have written, you can press the white "Done" button in the top right-hand corner.
Optional Step: Edit your text or change its duration.
After you have added your text to your TikTok video, you can tap on it and a small menu will appear:
As you can see, two options appear once you click on your text. These options are called "Set duration" and "Edit". The duration option allows you to choose when your text will appear and for how long, whereas the "Edit" option allows you to change the text or delete it altogether.
Optional Step: Add another piece of text.
It is worth noting that you can add multiple pieces of text to a TikTok video. To do this, you can simply click on the "Text" icon at the bottom and it will prompt you to write something else. This can be particularly useful if you are labeling different things or if you want different words to have different styles. It is also handy if you are manually adding subtitles to a video, as it will allow you to set a different duration setting for each part of the dialogue.
And that's it. Once you are happy editing your video, simply click on the red Next button in the bottom right-hand corner.