It looks as though the website for Bob Dole's failed 1996 presidential campaign is still up and running. It's kind of crazy to think that this site has been preserved for 18 years! That's nearly two decades!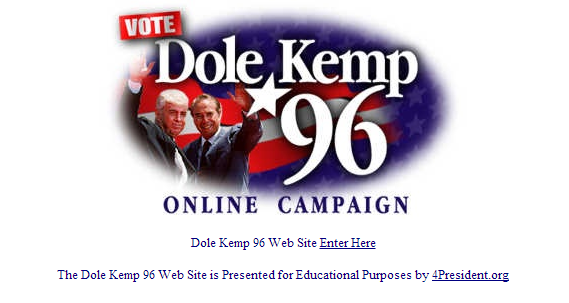 After entering via the splash page, you are treated to a wonderful 1990s design, complete with animated gifs and a copious amount of inline CSS styles!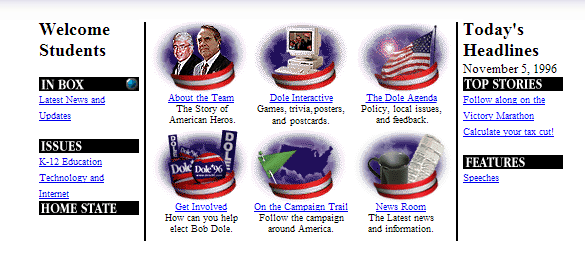 In the right column, we are shown news headlines that date as far back as November the 5th, 1996. Unfortunately, the links are no longer clickable, which means that the articles probably 404'd a very long time ago:
Follow along on the Victory Marathon.
Calculate your tax cut!
The "About the Team" section provides us with pictures of the Dole and Kemp families, as well as the campaign slogan:
"More opportunities. Smaller government. Stronger and safer families."
On the site, you'll also find this wonderful news article from October the 7th, 1996. Quote:
Following Bob Dole's mention of his campaign Web site address in his closing remarks last night in Hartford, the site has been deluged by a flood of first-time visitors. In a single four-hour period today, the Dole-Kemp '96 Web site received more than 762,000 "hits" — the Web standard for measuring traffic on a site. The total hits on the site for today alone is expected to pass the 2 million mark.
Yes, this was in an age where most people didn't understand what the term "website hits" meant. Finally, you can read up on some of Dole's main talking points, which touch on topics such as:
Smaller government.
Lower taxes.
Higher wages.
Balancing the budget (isn't the US still talking about this?).
Teenage drug abuse and a nice comment about Clinton condoning drug use on MTV!