It seems as though a sizable number of people don't understand the fact that it can take two or three weeks for a positive result to be included in the official Coronavirus figures. In some cases, it can take even longer than that.
As a result, a lot of people do not grasp the fact that today's figures are for infections that occurred two or three weeks ago. i.e. A case increase on June 19th could easily be due to a transmission of Covid-19 that occurred on June 5th.
Judging by comments on social media, a lot of people expect case counts to rise immediately after an event. "The protests happened three days ago and there still hasn't been a rise in cases." "Restrictions were eased last week. Yet the numbers are still decreasing?" These are just some of the type of comments that you will find online.
All in all, there seems to be a lack of understanding about the timeline that is involved.
Take a look at the following infographic:
A, B and C represent three different people. As you can see, there is a sizable incubation period where an infected person will not show any symptoms. On average, it takes 5-6 days to display symptoms of Covid-19. In some cases, it can take up to 14 days.
For example: If I became infected with the Coronavirus on a Friday, I might not feel any symptoms until the following Thursday evening. At that stage, I will have to call my doctor and wait for a test.
Test waiting times.
Once a person experiences symptoms, they need to report those symptoms to a doctor and wait for a test. In most places, being tested for Coronavirus is not something that happens immediately. You can't just click your fingers and receive one. It can take time.
The time it takes to go from experiencing symptoms to receiving a positive test result will vary by location. Testing policies, infrastructure, backlogs and the availability of testing kits will all have an impact on this time frame.
In one case, a person could be tested and receive a result within 2-3 days. In another city, it could take over a week.
For example: In April of 2020, Ireland was experiencing its peak in the first wave of Coronavirus infections. During this period, a testing backlog of 35,000 cases occurred. As a result, many people reported long waiting times for tests. At the start of May, Ireland's health service stated that the testing process took nine days on average. This means that a person who contracted the Coronavirus on May 1st probably didn't receive a positive test result until after May 15th.
This kind of lag in testing is not just limited to Ireland. There have been reports of testing delays all across the world. In Arizona, USA, which has recently witnessed a surge in Covid-19 cases, there are news reports that test results are taking up to 9 days to come back.
This means that a person who received a positive result in Arizona today could have been infected 14-20 days ago.
"The figures aren't going down."
While Ireland was at its peak, there were a lot of comments from people who could not understand why the numbers weren't falling quickly enough. The country had been in lockdown for over two weeks, yet the number of new cases remained steady. What they did not realize is that these waves cannot be turned off like a tap. Once you realize that your numbers are steadily climbing upwards, you can be pretty sure that there are even more infections waiting in the pipeline: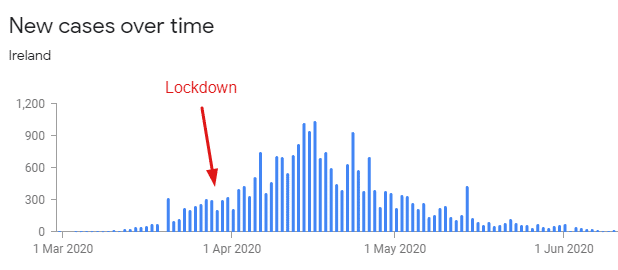 In the graph above, you can see that Ireland reached its peak about 20 days after a full lockdown was implemented. This shows that there is a 14-21 day lag between the initial transmission of Covid-19 and its inclusion in the official figures.
Official case counts.
It is extremely important to note that a positive result may not be immediately included in the official figures. The speed at which positive results are fed into the official count depends on a number of factors:
What kind of system is in place? Are positive cases immediately fed into the figures for that day or is there a cut-off time?
How efficient is the system? How easy is it for staff members to compile and export the data? Which software programs are they using?
Is there a "weekend factor", where less cases make it through the system on a Saturday and Sunday?
In an article on Bloomberg, the executive director of the Council of State and Territorial Epidemiologists (CSTE), Janet Hamilton, stated that "health departments are juggling data across multiple programs" and that reporting "can be sluggish." In Sedgwick County in Kansas, Hamilton said that her employees were using up to 85 different software programs just to do their jobs. In some cases, labs are still using fax machines to report Covid-19 results to the Health Department.
This shows that reporting Covid-19 cases is not as easy as just filling out a few numbers and pressing the send button.
Memorial Day spike.
In the aftermath of Memorial Day, a number of social media users were quick to "gloat" about how the federal holiday had failed to cause any spikes. In their opinion, this proved that the situation was being over-exaggerated: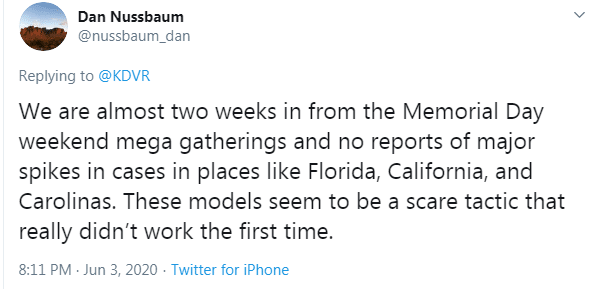 The screenshot above is a perfect example. On June 3rd, a Twitter user called Dan Nussbaum expressed his skepticism about the possibility of a post-Memorial Day spike. On the exact same day that he wrote this tweet, Florida's case counts began to rise. The next day, on June 4th, North Carolina saw it's biggest ever daily increase since the pandemic began. The day after that, on June 5th, California saw its biggest ever daily increase.
It's as if the tweet woke Covid-19 from its slumber.
Like many people, Dan had failed to take into account the lag between transmissions of Covid-19 and the numbers in the official figures. Within the next week or so:
Between June 3rd and June 14th, South Carolina went from having 236 cases to 841 cases:
Like many comments in the aftermath of Memorial Day, this one aged like milk.
Facebook Comments