In this guide, we are going to show you how to create a new group chat on Snapchat.
This feature is useful if you want to create a chat for your friend group or work colleagues.
Snapchat groups tend to be "funner" than Whatsapp group chats because they are more personal and informal. You also don't have to deal with people mindlessly forwarding every single video that they see into the group.
To create a new group, simply follow the steps below.
1. Go into the "Chat" section.
Firstly, you will need to go into the Chat section. You can do this by clicking on the message icon at the bottom of the app.
2. Compose a new chat message.
Once the Chat section appears, click on the compose icon in the top right-hand corner.
This compose icon will bring you into the New Chat section.
3. Click on "New Group".
The New Chat section allows you to create a new chat. However, in our case, we want to create a group instead.
Therefore, you will need to click on the New Group option.
4. Create a group name and select the friends that you want to add to your Snapchat group.
At this stage, you will be able to do two things.
Firstly, you can edit the name of the group by clicking on the pencil icon at the top. However, this feature is optional. You can always create the group and then rename it at a later stage.
Secondly, and more importantly, you can select which friends you want to add to the group.
In the screenshot above, you can see that I have selected two of my friends. You can also see that only 64 people can be added to a group (it says 63 because you are already included in the figure).
5. Finally, click on "Chat with Group".
Once you are happy with your selection, you can click on the blue Chat with Group option at the bottom of the app.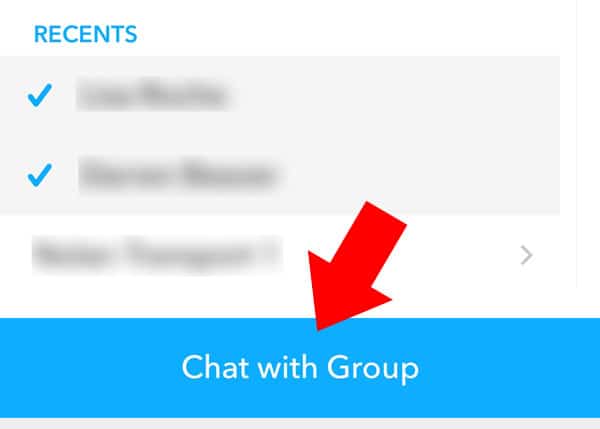 Congratulations! You should now be able to send snaps and messages to your new group!
Related Snapchat guides and articles.