Over the past year or so, former Irish Independent journalist Gemma O'Doherty has been steadily sliding further and further into the world of conspiracy theories.
After failing in her bid to become nominated for the 2018 Irish presidential election, it seems as though O'Doherty has been using Twitter, Facebook and Youtube as platforms to parrot popular alt-right conspiracy theories about LGBT propaganda in Irish schools and the encroachment of multiculturalism.
The unicorn.
On the 25th of February, 2019, O'Doherty tweeted a photograph of a school handout about the mythology surrounding unicorns:
The next day, during a live stream on Youtube, O'Doherty told her viewers that 'a number of Polish mothers living in Ireland' had contacted her to express their concerns that this material about unicorns was 'LGBT propaganda'.
[…] and last night, I posted some pictures of unicorns that are being given out in certain Catholic schools to very young children. Now, of course, the unicorn is the symbol of transgenderism because the unicorn has no gender.
O'Doherty then went on to say that Irish poet W. B. Yeats saw the unicorn as 'a symbol of destruction' and that the unicorn 'has a very sort of toxic, demonic feel to it.'
But a lot of people do not realize that it is completely associated with LGBT propaganda, and that it's being fed into the curriculum.
On the 16th of April, 2019, O'Doherty posted the following tweet:
Gemma O'Doherty on Multiculturalism.
O'Doherty also believes that the media's 'globalist masters' are forcing multiculturalism onto Europe: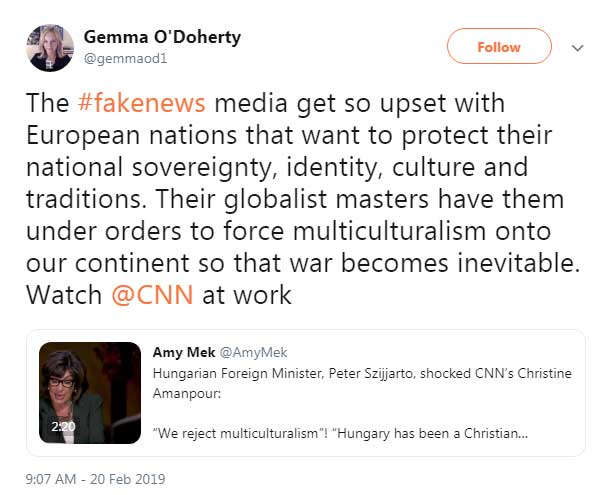 Here, Gemma uses the phrase "the fake news media", which is a popular term among the alt-right.
Gemma also caused controversy when she accused supermarket chain LIDL of "gaslighting the Irish people with their multicultural version of 'The Ryans'":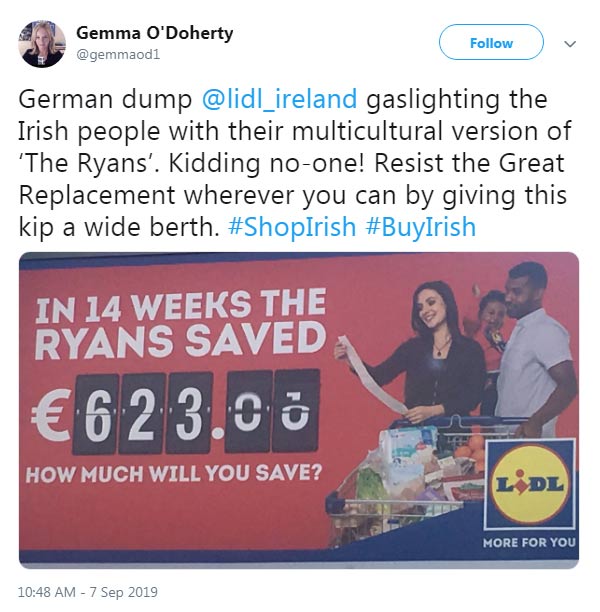 It is worth pointing out that the Ryan family above are a real family.
Gemma O'Doherty on Islam.
O'Doherty warns her Twitter followers that Islam is a political ideology and that Irish people must say no now: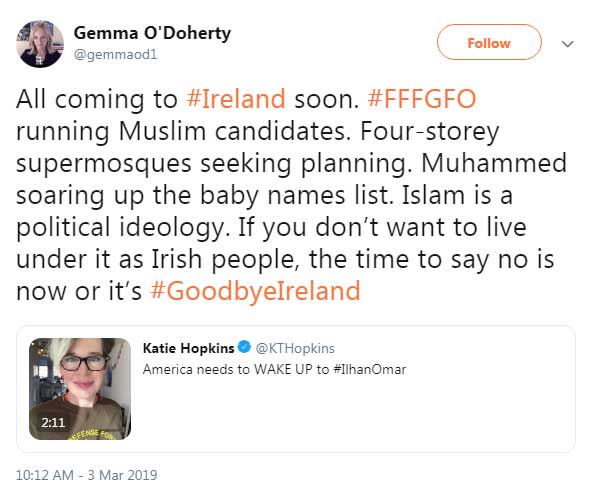 It is worth noting that Ireland elected a Muslim TD back in 1992. Moosajee Bhamjee, who ran as a Labour Party candidate, served as a TD for County Clare between 1992 and 1997.
The name "Muhammed" is still only the 63rd most popular boy's name in Ireland. Names such as Luca and Theodore had greater increases in popularity between 2017 and 2018.
Vaccines.
Judging from her social media activity, she also shares many views with the Anti-Vaxxer Movement.
O'Doherty is also highly critical of the HPV vaccine, which can help to prevent cervical cancer: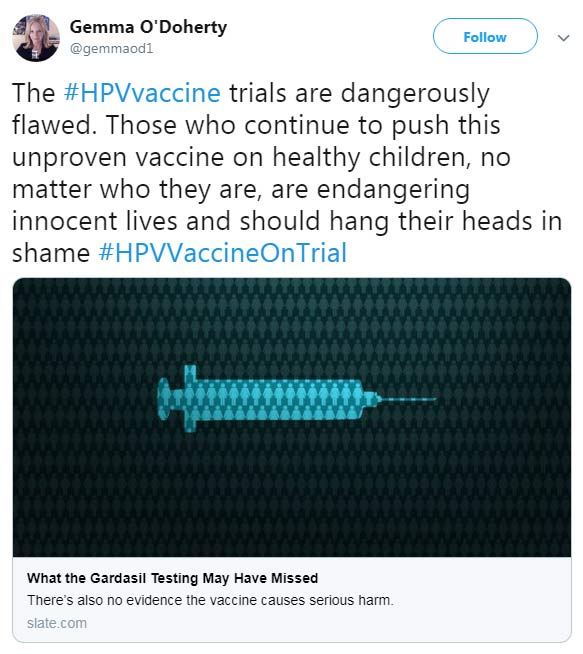 New Zealand shooting.
After a white supremacist shot and killed 50 people in Christchurch, New Zealand, Gemma O'Doherty told her Twitter followers that it had all of the hallmarks of a false flag operation: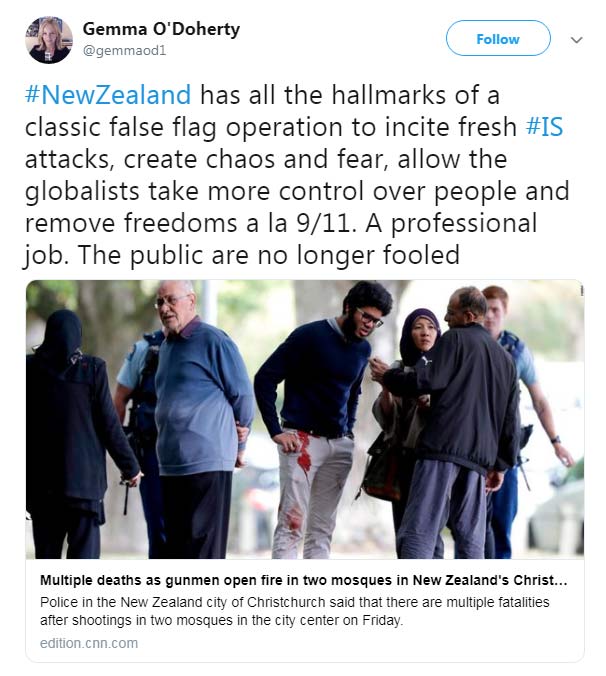 In the tweet above, she called it a professional job to incite fresh ISIS attacks. Afterwards, she lashed out at "leftist trolls" and their "one world government masters":
5G.
Here, she highlights the 'grave safety fears' surrounding 5G technology and labels People Before Profit TD Boyd Barrett as 'fake opposition':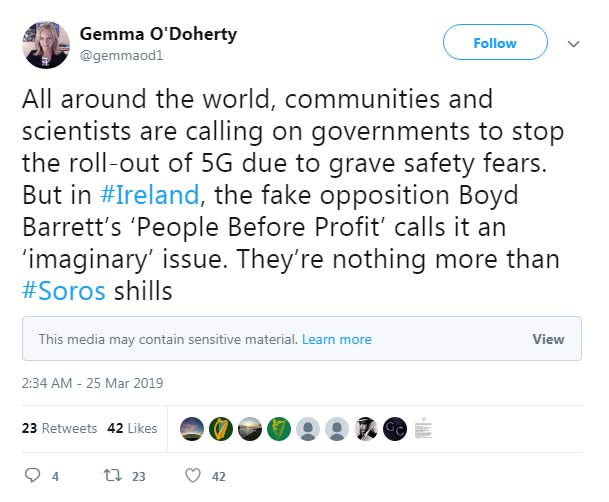 5G technology is unlikely to cause any health concerns. This is because the most popular spectrum bands for 5G will be in the lower frequency range.
September 11 attacks.
Gemma refers to the September 11 attacks as the 'biggest false flag in history':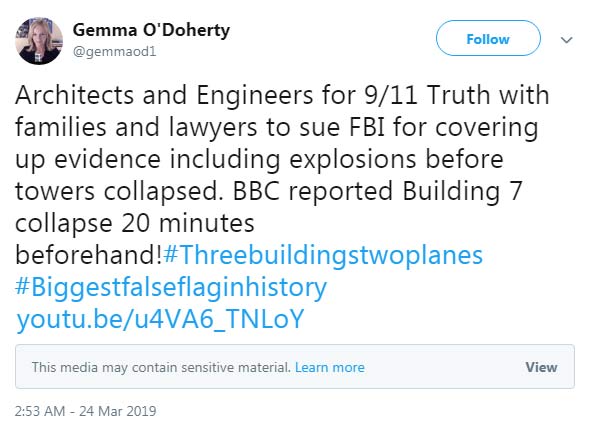 Pro Brexit.
O'Doherty is also Pro Brexit and has been known to use the term "remoaners" – a word that has been used by right-wing media outlets to poke fun at British people who want to remain in the European Union: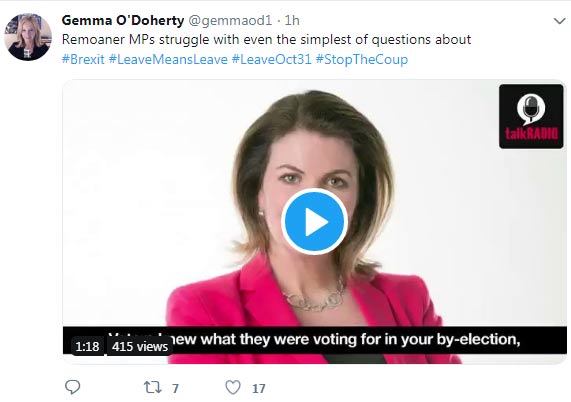 "Clintons will be going to jail."
Pandering to the alt-right hope that Bill and Hillary Clinton will one day be imprisoned:
"The biggest conservative channel in Ireland."
A tweet in which O'Doherty refers to her Youtube channel as 'the biggest conservative channel in Ireland.'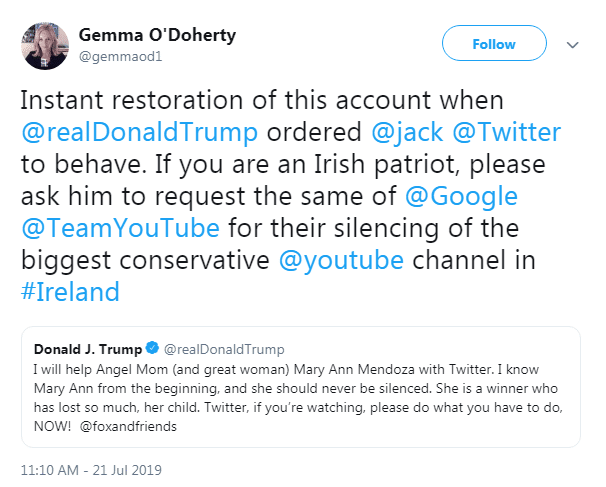 As evidenced above, it seems as though Gemma O'Doherty shares many beliefs with right-wing conspiracy theorists. If you take a moment to browse her Twitter feed, you will see that it is filled with conspiracy theories about George Soros, Cultural Marxism, Islam and vaccines.