It seems as though the Irexit Freedom Party to Prosper Party has been using a stock photo for a local election candidate that doesn't even exist. Furthermore, this stock photo also managed to make its way into local news articles about the candidate.
Mairead Donovan.
Twitter user Mark Moloney was the first to point out that the candidate page for 'Mairead Donovan' contained a stock photo of an elderly woman with a walking stick:
The Irish Freedom Party's website said that Mairead Donovan is retired and that she believes the 'Irish people have lost their identity and self respect'. The profile also stated that she has seen Ireland change into 'something she can no longer recognise'.
However, photographs of the exact same woman can be found on a stock photo website called CanStockPhoto:
Users can purchase a picture of 'Mairead' and her walking stick for as little as €8.00.
Killarney Advertiser.
On the 8th of March, 2019, the Killarney Advertiser featured the photo when it ran a news article about Mairead: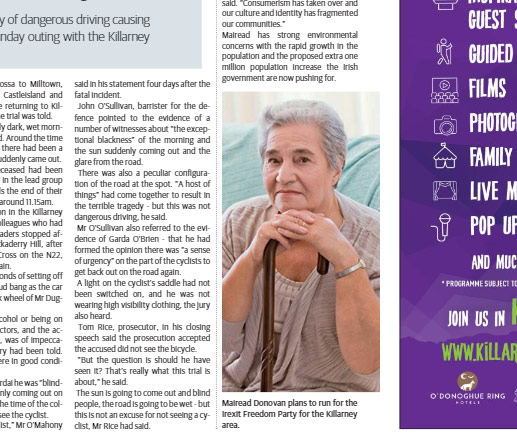 The article stated that Mairead is a retired nurse and that she is 72 years of age.
Fake News.
The Irish Freedom Party reacted to the stock photo story by labeling it as 'Fake News':
This Kerry story is utterly fake news propagated by a media who did not do any verification whatsoever.
However, their statement failed to explain how the fake candidate's photo and bio had appeared on their own website.
Killarney Today.
Killarney Today stated that a press email about the bogus candidate had been sent to media organisations in Kerry. The email in question was sent by somebody using the email address [email protected]
When Killarney Today contacted Irexit Party leader Hermann Kelly for comment, he told them that he had sent them an email on the 7th of March denying that the party was running a candidate in Kerry.
However, Killarney Today denied receiving any such email.
The Irish Freedom Party has since removed Mairead's profile from their website.
Facebook Comments