Last week, a frustrated co-worker of mine lashed out at the Coronavirus lockdown. He was mostly just venting, to be honest. And I can't really blame him for that. I'd be a liar if I said I haven't been feeling frustrated as well.
However, during his rant, he claimed that the lockdown measures will probably cause more deaths through suicide than the virus itself.
His conclusion was basically this: Keeping people locked inside their houses will lead to poor mental health, which will in turn cause suicide rates to skyrocket.
This was not the first time that I had heard of this hypothesis. I had also seen people posting similar comments about suicides, etc, on Facebook posts about lockdown measures being extended.
So I decided to dig through the stats.
Coronavirus deaths VS suicide deaths.
The following graph shows the number of suicides that occurred in Ireland between 2000 and 2016: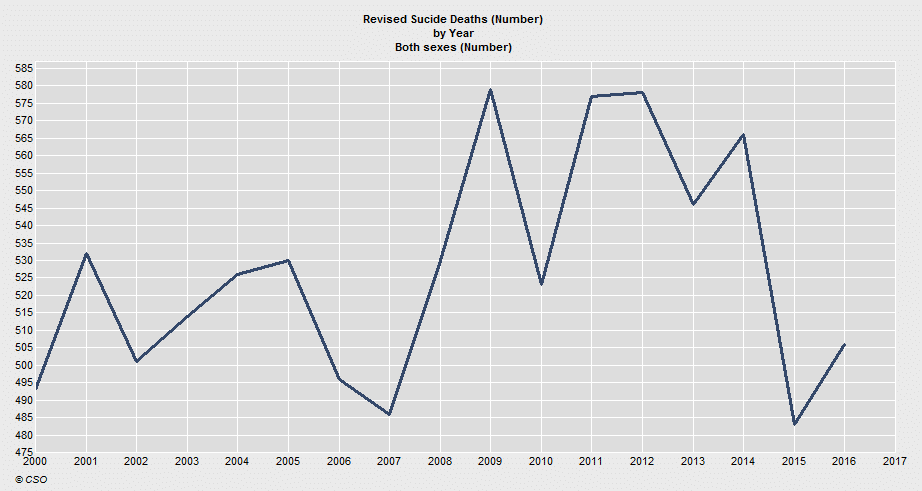 As you can see, the suicide rate jumped up a bit after 2007. This is possibly because Ireland was one of the worst hit countries after the crash of 2008. The unemployment rate in Ireland quadrupled, growing from 4% in 2007 to 16% in 2012. Although it is worth noting that it did not jump as much percentage-wise as most people might have expected.
The year with the biggest suicide rate in Ireland in the graph above was 2009, with 579 deaths being attributed to suicides.
In comparison, the Coronavirus has killed 1,777 people in Ireland in six months. And that is with a preemptive lockdown in place.
Let's look at the suicide figures for Italy – a country that has been hit particularly hard by the spread of Covid-19: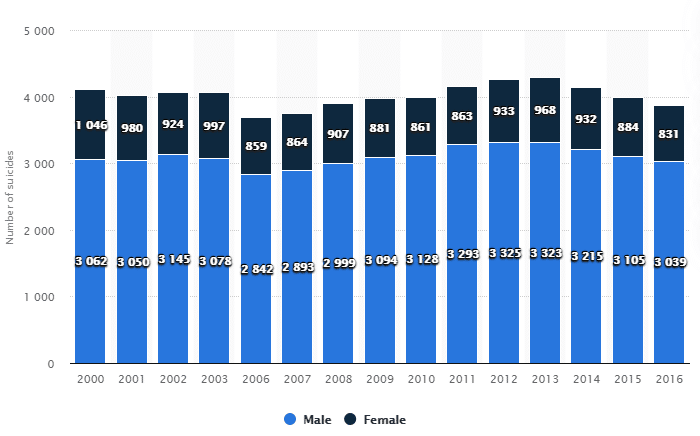 In 2013, 4,291 deaths in Italy were classed as suicides. In comparison, 22,745 people have died from the coronavirus in Italy between the 21st of February, 2020 and the 17th of April, 2020.
That is 22,745 people dead in 57 days. And the figure would most likely be much higher today had Italy not gone into lockdown.
Will lockdowns kill more people than the Coronavirus?
While digging around for stats and viewpoints on this subject, I came across the following article: Coronavirus: why lockdown may cost young lives over time.
In the article, the author points out the following:
In the UK, 6,507 people killed themselves in 2018 – that's nearly twice the number of deaths seen in Spain from the coronavirus.
The article in question was published on the 26th of March, 2020. Three days later, Spain's death toll had risen from 3,650 to 6,803. It only took three days for Covid-19 to render this particular sentence obsolete. That is how quickly this thing can move.
It is now the 30th of August and Spain's death toll now stands at 29,011. The United Kingdom's death toll from the coronavirus has reached 41,498.
Conclusion.
I am not trying to downplay the impact that these lockdowns may have on people's mental health. That is a much more complex issue that will take further time to study.
However, stating that more people will die from suicides than the coronavirus seems wrong, considering how fast this virus can spread and how quickly the death toll from it can balloon in such a short period of time.
Facebook Comments