In this guide, I will show you how to stop Facebook from automatically playing videos with sound. I think we can all agree that this feature can be extremely annoying. One minute, you're having a quick glance at your Facebook feed. The next minute, everyone is looking over at you because your phone is blaring out music.
Note that I wrote this guide in 2020. However, I doubt that this setting will change much. Over the years, it has retained a similar name.
Step 1. Go to your settings.
The first thing you need to do is go to the Settings section of your Facebook app.
Step 2. Find the "Media and Contacts" section.
After you have opened the Settings screen in your Facebook app, you will need to scroll down and find the section called Media and Contacts.
Note that on my phone, the Media and Contacts option was at the very bottom of the Settings page.
Step 3. Turn off the option for videos starting with sound.
Once you have entered the Media and Contacts section, you will need to find the option labelled: "Video in News Feed Start With Found"
By default, this option will be blue, which means that it is "ON". To turn this annoying feature off, simply tap on the blue slider until it becomes "greyed out."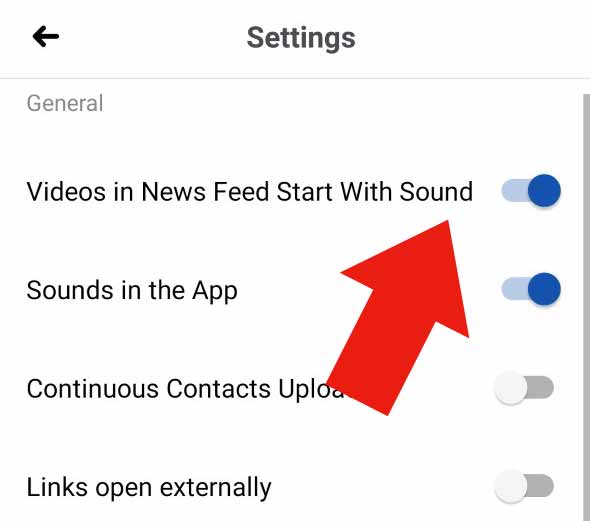 Once you've disabled the option, hit the back button and go back to your newsfeed.
And that's it! If everything went well, your Facebook app should no longer automatically play sound for videos. i.e. Every video will be muted by default. This puts control back into your hands, as you can now pick and choose which videos you want to listen to.
Hopefully, this guide helped to prevent you from tossing your phone at the wall!