Bebo was extremely popular during the 2000s.
In countries such as the United Kingdom, Ireland, and New Zealand, it even managed to overtake MySpace as the top social network.
If you were using Bebo back then, then you will probably remember sending "luv", ordering your friend list, choosing a "skin" and drawing on other people's whiteboards.
Sadly, the website was unable to cope with the meteoric rise of Facebook. By August of 2013, its user base had shrunk so much that its owner decided to shut the original website down and start afresh.
For this article, we delved into the "Wayback Machine" to find screenshots of the "old Bebo."
If you're like us, then these images will probably conjure up a few nostalgic memories.
The Bebo homepage in 2005.
When Bebo launched in January of 2005, its homepage looked like this:
As you can see, it was very "basic" at the beginning.
However, by August of 2005, the site had undergone its first redesign:
In this case, they "spruced" it up and started using the pink, purple and blue color scheme that everyone became familiar with.
The site also advertised the following features:
Share photos.
Create quizzes about yourself.
Start your own blog.
Learn more about your friends.
Its testimonial section was filled with people butchering the English language:
At the end of 2005, they changed the homepage image to a stock photo of a woman:
They also started to display a list of "Featured Profiles":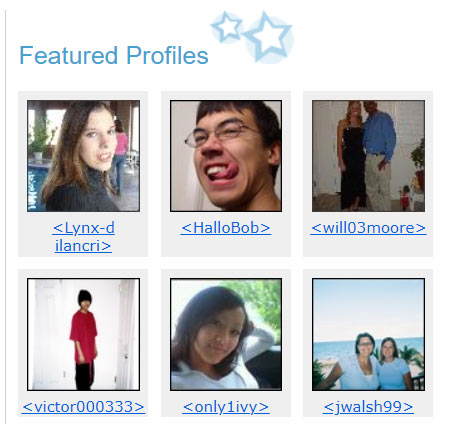 Bebo profiles.
The original Bebo profile looked like this:
When people signed up to the website, they often wrote a blurb about themselves and filled out details about their hobbies, favorite music and films.
Unlike Facebook, Bebo showed you how many times people had viewed your profile. It also displayed when you were last active.
Ordering your "Friends" list.
The "Friends" list appeared on the left side of your profile.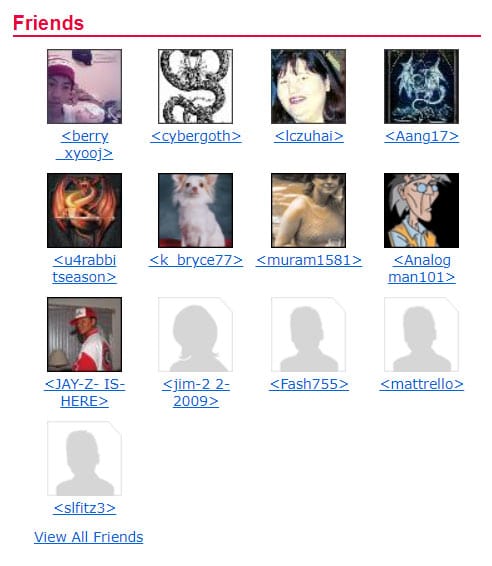 Users had to manually order this list by dragging and dropping their friends' profile pictures into certain positions.
As you can imagine, this often led to petty arguments.
If you put a friend in first place and they didn't return the favor, then you had to decide whether to demote them or not.
The "Photos" section.
The "Photos" section appeared on the right side of your profile.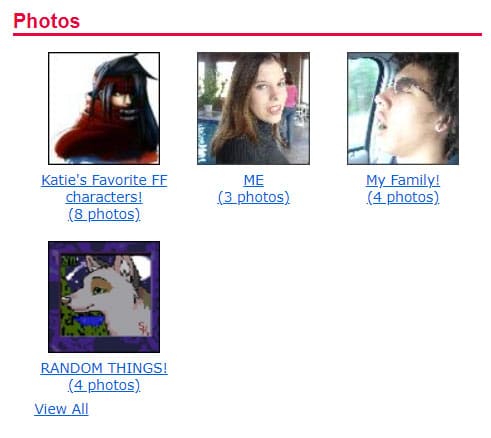 This section allowed you to create custom photo albums.
On Bebo, people often created an album called "Me", in which they would upload selfies and other photographs of themselves.
The Whiteboard.
The "Whiteboard" feature allowed you to draw images on other people's profiles.
You could also draw on your own whiteboard.
If your friends were as "mature" as mine, you'd often log in to find detailed illustrations of the male anatomy.
The Bebo "Flash Box".
Bebo's "Flash Box" feature allowed you to add videos to your profile. You could upload videos to this section, copy videos from other people's profiles or paste YouTube URLs.
More often than not, users selected their favorite song.
There was also an option called "autoplay".
If you were a user back then, then you probably remember clicking onto someone's page and having your ear drums shattered by some chavvy dance remix with high-pitched vocals.
The "Polls" feature allowed you to create silly polls that your friends and other visitors could take part in.
Featured Beboers.
The homepage often displayed a random list of "Beboers".
Unfortunately, a lot of young men had profile pictures of themselves flashing their abs.
Skins.
Bebo Skins gave users the ability to customize their profiles with different background images and colors.
Boys would usually select music or soccer skins, while girls often opted for quotes, Playboy images, and glittery backgrounds.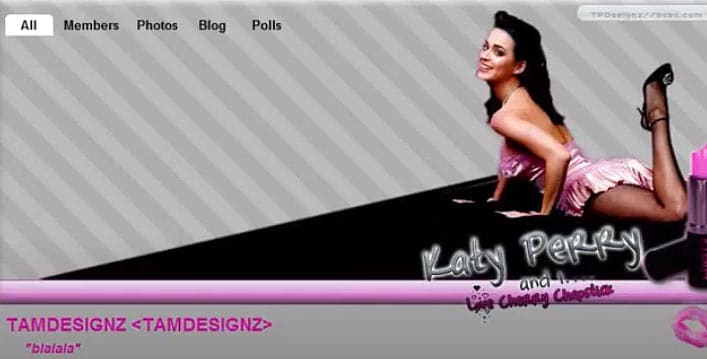 You could also find funny skins that had cheesy jokes and other sayings at the top.
Skins were such a popular feature that dozens of independent "Bebo Skins" websites existed.
The Bebo "Sign In" page.
This screenshot of the "Sign In" page is from June of 2006: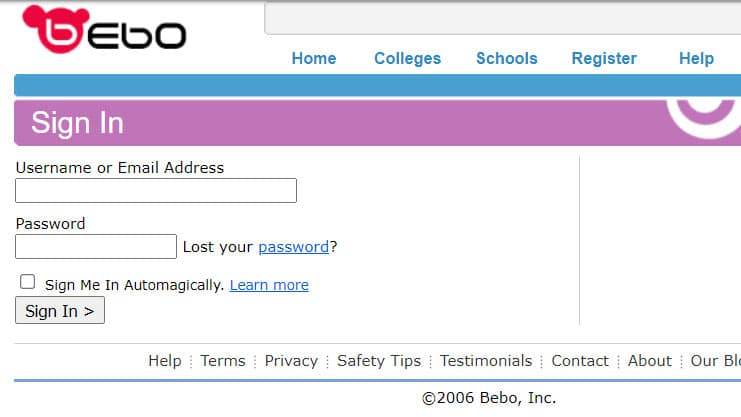 Authors.
Bebo also had an "Authors" section: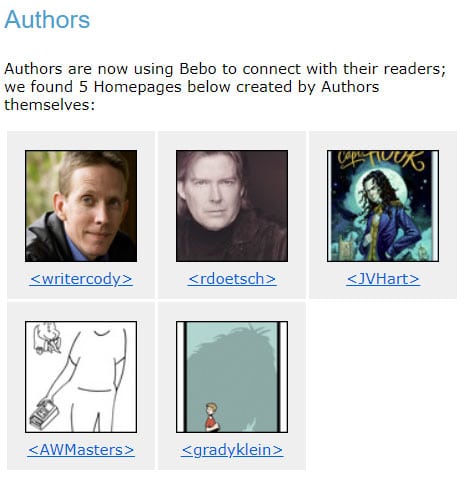 Many of the author pages were created by regular users who wanted to write blogs, short stories and poetry.
Other Half.
The website allowed you to select one friend as your "Other Half" and then write something about them.
Most people selected their boyfriend or girlfriend. Others chose their friends.
Both users had to agree to this. In other words, you could not select someone as your "Other Half" without their permission. They had to accept the request.
The screenshot above is from a page claiming to be actress Ashley Tisdale. However, we cannot confirm if it was actually her or not.
Bebo was filled with fake profiles posing as celebrities and fictional characters.
There were also dozens of parody accounts.
For example, I remember someone pretending to be Barry Scott—a fictional character who advertised the cleaning product "Cillit Bang."
Because Scott shouted in his commercials, the person who ran this parody page would write in capital letters. They would also start each comment with, "HI, I'M BARRY SCOTT."
Rebrand.
In 2008, Bebo re-branded itself. It also started hosting web applications and canvas games.
In 2009, the homepage underwent another redesign:
In an effort to "modernize" the social network and keep up with Facebook, they also changed the profile layout:
However, the comments section remained pretty much the same:
In the middle comment above, you can see a love heart.
Sending "luv" was a popular thing to do on Bebo. You could only send three "luvs" per day, so you had to choose wisely.
In order to send love to a person, you had to tick a box and post a comment on their page.
When you sent a love heart to someone, it was added to the "Share The Luv" tally on their profile.
In 2011, Bebo also added other features such as "Widgets", which added extra functionality. For example, the Backstage group added a "Twitter Stream":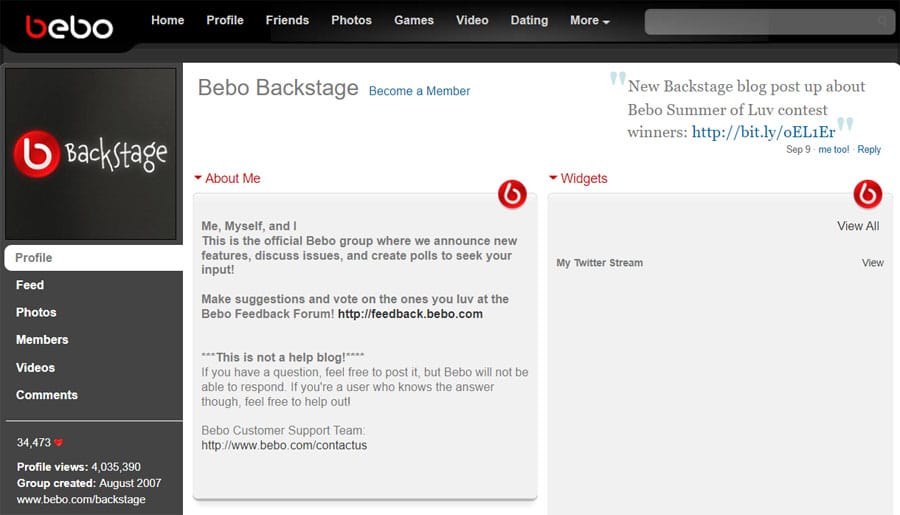 By 2011, Bebo had added it's own "Home" feature, which was basically an inferior copy of Facebook's newsfeed.
By that stage, users could also create "statuses" and chat via IM.
Why did it shut down?
Sadly, the social network did not have enough funding to compete with Facebook, which was adding new features all of the time.
As time wore on, more and more users started using Facebook instead of Bebo.
In May of 2013, the company filed for bankruptcy protection. Shortly afterwards, the original owner, Michael Birch, purchased the site back for $1 million.
On August 7th, 2013, Birch shut the original site down and stated that he would be launching something new.
In 2015, it was relaunched as a messenger app. However, the app failed to catch on.
In 2021, Birch announced that he was going to resurrect the original Bebo.
Although many people were excited by this news, Birch failed to capitalize on everyone's nostalgia by launching it as an "invite-only" site.
As a result, most people eventually lost interest in it.