This is a short guide on how to delete a pending Auto-Exchange sell order on the Revolut app.
As you probably already know, the Auto-Exchange action on Revolut kind of works like a Sell Limit.
It allows you to set a target price. Consequently, Revolut will automatically sell your cryptocurrency or stocks once that target price has been reached.
Update – Jan 2021: Revolut has completely rearranged their app so that pending orders are easier to find. As a result, we have updated this guide with the new steps.
Step 1. Click on the favourites icon.
Firstly, you will need to click on the favourites icon at the top of the app.
Step 2. Use the "Orders" option.
After the "Favourites" section has loaded, you will need to click on the "Orders" option.
Step 3. Find the pending order that you want to cancel.
After that, you will be shown a list of your pending Revolut orders. This section will also show you orders that were previously executed.
Once you have found the order that you want to delete, simply click on it.
Step 4. Cancel the order.
After that, the "Limit sell" page will appear.
This page displays information about the limit price that you set and the estimated amount of money you will receive if the target price is reached and Revolut sells your holdings.
To delete the order, simply click on the blue Cancel button at the top.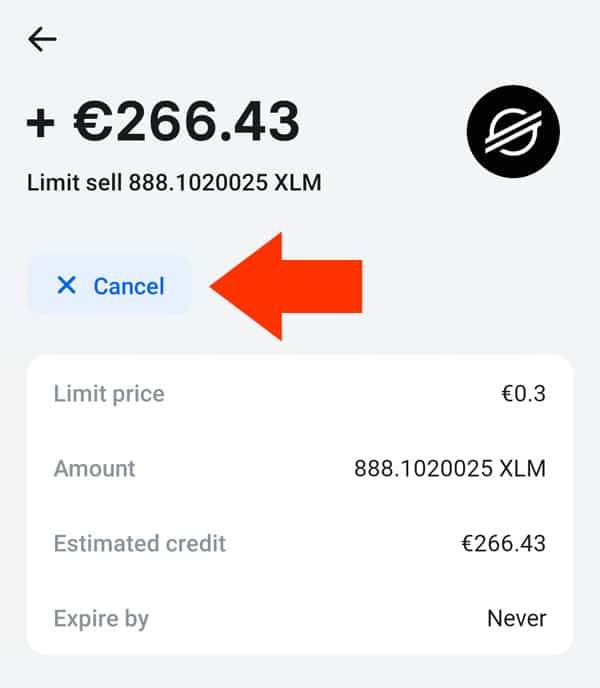 And that's it! Once you click on the "Cancel" option, the order will be removed.
Note that we wrote this guide in January of 2021.
Revolut is constantly changing things around inside its app. As a result, the steps above may be slightly different by the time that you read this article. If that is the case, then please leave a comment below.