I rarely play FIFA. In fact, I rarely play video games at all. If I was forced to give you a rough estimate of how much FIFA I play, I'd tell you that I devote about an hour or two… per week. That's it.
Fortunately, I still manage to win the vast majority of my games, simply because I've perfected a tactic by sticking with it. These are my negative Mourinho-style tactics.
Park the bus.
Update: FIFA 15 actually contains a tactic called Park The Bus.
In FIFA, nobody plays defensively. Seriously. Most of the time, your opponent's will play on the attack. No doubt, they'll have a pair of pacey wingers that will bomb it down the side-line, chasing after the dozens of through balls that will be put in front of them. Nine times out of ten, this is what you are up against.
Fortunately, you can completely nullify the impact of this style of play by switching to an Ultra Defensive style. This will prevent your full-backs from roaming forward, which means that there is much less space for your opponent's wingers to run into.
It also means that your wingers will track back and help in defence, which is extremely useful in scenarios where your full back has been caught out of position.
Honestly, there is nothing more satisfying than knowing that your opponent has run out of ideas, simply because they only had one idea to begin with.
Strong Centre Backs.
Your two centre-backs should be strong in the air. When you play defensively, there is a good chance that your opponent will begin to send long balls up the pitch. If you have two centre-backs that are powerful in the air, this tactic will be futile. This is also extremely important in regards to set pieces such as corners, which can undo all of the hard work that you've put into not conceding.
Manual positioning.
Whenever one of the opponent's players makes a run, make sure that you manually follow said player with one of your defenders. This will cut out the option of a through ball. In the vast majority of cases, your opponent will react by playing a safe horizontal pass.
Possession.
Having possession gives you control of the game. Simply put: If the other team doesn't have the ball, they can't score. Learn to trade quick passes and more importantly, learn how to make safe passes! Be patient with your passes and do NOT be afraid to play it back. Many FIFA players place a huge emphasis on passing it up the pitch. Take advantage of this by taking it off them and keeping possession. Soon enough, they'll realise that they are not getting enough time on the ball. When that happens, players start to get a bit jittery. This is because they know that one false move will gift you the ball and they'll go right back to ball-chasing.
Counter Attack.
The great thing about using Ultra Defensive tactics is that your opponent will often forget about his own defensive responsibilities. In his head, he is in complete control of the game and you are under the cosh. I mean, why else would a team be sitting back in their own half?Right?
This kind of attitude is prevalent on FIFA because of the emphasis on attacking football. In the minds of many FIFA players, the team that is pushing forward is the team that is in control.
For this style of play, I usually stick with Chelsea. They have solid defenders and pacey wingers that can lead a quick counter attack. Typically, I will sit back, soak up the pressure and then win the ball back. Once I've got the ball, I'll either continue with a possession style of play or I'll supply Hazard or Willian with a quick through-ball. In a lot of cases, the opponent is pressed up so high that I can sprint down the wing and get a cross into the box.
Target Man.
Having a striker that can get his head onto a cross is a big plus. Counter attacks down the wing are less effective when you don't have a forward that is powerful in the air.
With Chelsea, I start with Demba Ba, simply because he's strong and he is usually good in the air. During a counter attack, I'll get Hazard or Willian down the wing. More often than not, I'll cross it in and Ba will get his head to it. In many cases, I'll score and the opponent is left wondering how it all went wrong. Now they're losing 1-0 to a team that is capable of holding possession and parking the bus.
Proactive Substitutes
A reactive substitute is a substitute that is made in reaction to something that has occurred during the game. For example, you've just let in a goal and there is only 20 minutes to go.
A proactive substitute is a preventative measure. For example: Bringing on a new winger, just so you can switch things up and keep your team fresh.
In almost all cases, you should stick to proactive substitutes. If making a substitute is your reaction to conceding a goal, then why didn't you make the sub beforehand?
With Chelsea, I bring on my substitutes during the 60th minute, which is the time when many players are beginning to lose most of their stamina. The substitutes I make are based on pace. I bring on Eto'o for Ba, Salah for Willian and Schürrle for Oscar. I move Hazard in from the wing so that he can play out the rest of the game as a central attacking midfielder. In the past, these substitutes have proven to be the final nail in the coffin for my opponent, simply because I've injected a great amount of pace into my team during the final 20-30 minutes. This allows me to take advantage of the opposition's tired legs. It also allows me to switch to a more direct style of play.
Changing Styles
Changing your style of play can confuse the opposition, simply because they've grown accustomed to your "negative" tactics.
Think about this: You've just spent the last 60 minutes trying to break down an opposition's defence. You've tried everything but it looks as though he is content to sit back, hold the ball and play for the draw. On the 60th minute, he brings on Salah, Eto'o and Schurrle. Suddenly, he switches from possession-based football to launching full-on counter attacks. His wingers are launching themselves forward and they are getting behind your full backs with ease. They are fresh off the bench and full of pace.
What do you do? Switch to a defensive formation? Make a few substitutes? Continue to play the way that you were playing?
Fortunately, for those of us who like to change our style of play, your common FIFA player will often stick to the same tactics. Sometimes, they are completely oblivious to the fact that you chose to play defensively. In their minds, the only reason that you were playing defensively was because you were under pressure. In their minds, you're not capable of switching to a more direct approach.
Slow down and stop sprinting!
Only sprint when you need to! If you sprint every single time that you are on the ball, you will lose possession and your players will be quick to tire!
Try to get more comfortable on the ball! Slow down, play short passes and be patient in your build up play. If your entire game consists of one-touch passes and constant sprinting, you are going to get destroyed!
When in doubt, get it out!
When you're under pressure and it feels as though the opposition could score at any moment, launch the ball up the field. This not only removes the immediate danger, it also gives your team the chance to press up!
This will take the momentum out of our opponent's attack by slowing the game down and forcing them to restart their build-up play.
It also introduces the possibility that your striker will snatch the ball and score a cheeky goal, against the run-of-play. If you're sitting back and playing defensively, there's a good chance that your opponent will use a high defensive line. This will leave them susceptible to "shock" goals.
"Getting it out" also reduces the risk that your player will be dispossessed in his own box.
Defensive Midfielders
I deploy Matic and Ramires as my two Defensive Midfielders. Matic because he's strong and he's a great tackler. Ramires because he has the pace to track back and snuff out any counter attacks.
It is important to note that I often control these players manually. i.e. When the opposition is on the attack, I will manually take control of Ramires instead of taking control of one of my defenders. This avoids a situation where one of my defenders has to run forward and leave his position.
Master the manual control of your defensive midfielders and you'll save yourself from a situation where one of your defenders gets himself dragged out of position, which will undoubtedly leave you open to through balls!
Kick-out.
When your goalkeeper has to take a kick out, make sure that you either play a short ball to your full back or a long ball up the pitch. For the love of God, stop playing quick short balls to your centre defenders! Sooner or later, the opponent's striker will steal the ball and stick one in the back of the net! Take your time and play it safe!
Goalkeeper.
When your keeper has the ball in his hands, hold on to it until the countdown clock is close to reaching one. This allows your team to push up the field. It also allows you to slow the game down so that you can frustrate the opposition and give yourself a bit of a breather. The only time that you should release it early is if you are planning on carrying out a quick counter.
Triangles.
When you are passing around the ball on the wing, look for the "triangle". Basically, the "triangle" is made up of three of your players, with an opposition player in the middle. When this kind of shape forms, it is easy to put four or five passes together. See below: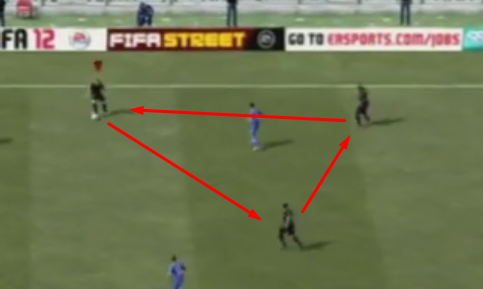 Win Every Single Ball
Simply put: A lot of FIFA players are lazy. They want the flashy goals and the skilful build-up play, but they're usually not interested in having to grind it out.
This means that a little work on your part can give you a huge advantage.
Press defenders with your attacker. In the best case scenario, your striker will win the ball in the final third and slot one away. Even if nothing comes from it: You'll still be putting pressure on the other player by letting him know that he'll need to be quick in his build up play. Forcing the other player into playing a quick passing game has its advantages, as quick build up play is often prone to errors and other silly mistakes.
Try to win every single ball. Seriously. Do NOT let up.
Close down the opposition as soon as they step into your half. This can make them uncomfortable on the ball.
Tackle, tackle, tackle!
Seriously – I have won many games via work rate alone! This brings me to my next point…
Take a rest.
After a few games of playing like this, you will probably begin to feel a bit "lazy." Closing the opposition down will feel like a chore and you'll lose interest in trying to win every ball. At this point, you should turn off the game and take a break.