Earlier this year, a Claire Byrne Live/Amárach Research poll found that 89% of people do not believe Sinn Fein leader Gerry Adams when he says that he was never a member of the IRA.
Why do so many people think he is lying?
Funeral Photographs.
There are multiple photographs of Adams attending IRA funerals. In some of the older photographs, you can see a young Gerry Adams wearing a military uniform; complete with a beret.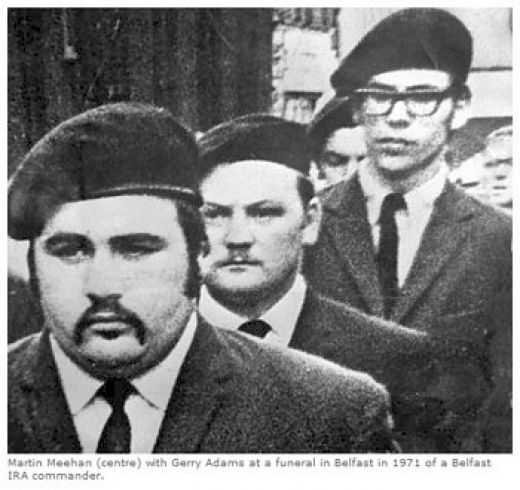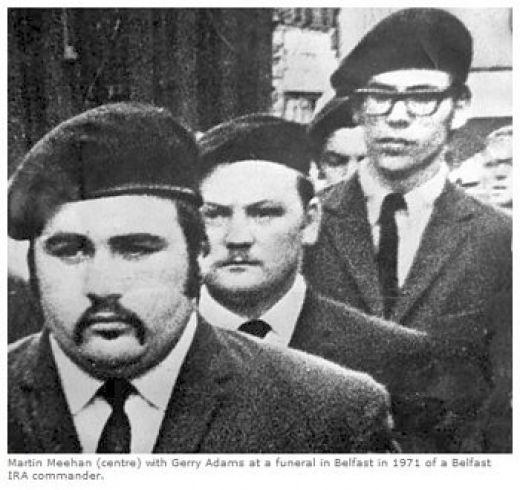 Pictured above: Gerry Adams behind Martin Meehan (centre), who was the first person to be convicted of being a member of the IRA. This was at the 1971 funeral of a Belfast IRA commander.
Dolours Price.
In 2010, Dolours Price claimed that Gerry Adams had been her "Commanding Officer" while she was in the IRA. Price also claimed that she had played a role in the murder of Jean McConville, and that Adams had ordered her killing because she was a British informer. Adams denied these claims. It is also worth noting, for the sake of balance and clarity, that Ms Price has been critical of Gerry Adams and the Good Friday Agreement, as well as the leadership of Sinn Fein. Because of Price's stance on Adams, I don't think that we can be 100% sure that she wasn't attempting to settle old scores by making the claims.
Peter Rogers.
In 1980, IRA man Peter Rogers was sentenced to life in prison for the murder of Garda Seamus Quaid in County Wexford. Rogers opened fire on Garda Quaid and his colleague, Garda Donal Lyttleton, when they attempted to search his van, which he had been using to transport liquid explosives.
In 2013, Rogers told the Sunday Independent that he had been given the task of transporting the explosives into the UK, and that both Gerry Adams and Martin McGuinness had ordered him to do so. After Rogers had initially refused to move the explosives because of his concerns that they were unstable, Adams and McGuinness summoned him to a meeting in Dublin. There, they questioned him about the delay, before eventually ordering him to move the explosives, despite their condition. According to Rogers, Adams' response was "Look Peter, we can't replace that explosive, you will have to go with what you have and as soon as you can get it across, the better."
"Why hasn't he sued anyone?"
Many people point towards the fact that Adams has never sued anyone that has claimed that he was a member of the IRA. Historians, former IRA members, politicians and journalists that have said that Adams was in the IRA have never been met with legal action. The argument that is made is: "If he wasn't a member of the IRA, then why hasn't he sued any of these people for defamation? Is he afraid of what evidence will emerge during the case? Is he afraid that the court will rule against him?" The counter-argument to this is: "His choice not to sue people should not be taken as evidence that he was in the IRA."
Sean O'Callaghan.
In 1998, former IRA member Sean O'Callaghan told the High Court that he attended an IRA Revolutionary Council meeting back in 1983, and that Adams was present, along with Thomas "Slab" Murphy, Pat Doherty and Martin McGuinness. Sinn Fein deny O'Callaghan's account; saying that he overstated his role in the organisation.
Brendan Hughes.
In 2013, recorded tapes of former Provisional IRA member Brendan Hughes were released. Hughes had agreed to give an "oral history" about his role in The Troubles on the condition that the recordings would not be released until after his death (his death occurred in 2008). During The Troubles, Hughes had been a member of the IRA's Belfast brigade. He was also the main organiser behind the Provisional IRA bombings on "Bloody Friday". In his account, Hughes stated that Gerry Adams had ordered the murder of Jean McConville. He also said that Adams was the commander of the IRA's Belfast brigade and that he had controlled a squad called "the unknowns".
"There is only one man who gave the order for that woman to be executed. That man, right, is now the head of Sinn Féin."
Evelyn Gilroy.
Former republican Evelyn Gilroy claims that Gerry Adams was the only person in a position to order the murder of Jean McConville. During The Troubles, Gilroy had been active in Divis, which was where McConville was abducted from.
PJ Browne.
Former Garda Detective Superintendent PJ Browne has claimed that Gerry Adams was "the leader of the psychotic IRA unit in Belfast in the early 1970s."
Brownie.
Using the pen name "Brownie", Gerry Adams wrote articles for An Phoblacht, which is a newspaper that is published by Sinn Féin. At the time, Adams chose the pen name "Brownie" to protect his anonymity (Bobby Sands did a similar thing, choosing to write under the name "Marcella"). Adams was an inmate in Long Kesh when he penned the articles in question.
In a number of articles, the author "Brownie" made it perfectly clear that he was a member of the IRA. In one article, in 1976, "Brownie" wrote the following:
"Rightly or wrongly, I am an IRA volunteer and, rightly or wrongly, I take a course of action as a means to bringing about a situation in which I believe the people of my country will prosper. The course I take involves the use of physical force."
Adams has since claimed that "Brownie" was a pen name that a number of different prisoners used ("a corporate entity"). However, in the book, Man of War, Man of Peace, it is said that the "Brownie articles are clearly the work of an individual rather than a committee." It is also noted that there was a sense of amusement amongst republicans when Adams claimed that the articles admitting IRA membership were all written by people other than himself.
It is also worth mentioning that Brendan McFarlane, who was the IRA's Officer Commanding inside the Maze prison, addressed Adams as "Brownie" in smuggled letters during the hunger strikes of 1981. A fellow author / prisoner under the pen name "Solon", also gave a physical description of the author "Brownie":
"For those of you who don't know, Brownie is a lanky, thin bearded, boggin' excuse for a person with gold rimmed glasses and is oft times to be seen, pipe in mouth, fumbling over cheese sandwiches."
William Whitelaw.
In 1972, Secretary of State for Northern Ireland William Whitelaw met with the Provisional IRA. In his memoirs, he writes:
"My Minister of State, Paul Channon, and I met leaders of the Provisional IRA at his house in London on 7 July."
At the other side of the negotiating table, was Sean Mac Stiofáin, who was the Chief of Staff of the Provisional IRA at the time. In his book, Memoirs of a Revolutionary,  Mac Stiofáin wrote:
"The time now came to pick our team of representatives for the crucial London meeting with Whitelaw. At this stage, it was the military situation that would be the main British preoccupation, and they would scarcely be interested in talking to any Republicans just yet apart from representatives of the military wing. Therefore I rejected a suggestion that our team should include a leading member of Sinn Fein."
In the same book, Mac Stiofáin wrote:
"It was decided that Dave O'Connell and I would represent the national leadership, together with Séamus Twomey. Also from Belfast there would be Gerry Adams and Ivor Bell. Martin McGuinness was to represent Derry."
The argument here is that this was a meeting between Whitelaw and the Provisional IRA – the military wing of the republican movement. Sean Mac Stiofáin makes it clear that he had rejected the suggestion that a leading member of Sinn Fein should be included in the negotiations.
If this is the case, then why was Gerry Adams at the meeting? Why was he in attendance along with other IRA members? Mac Stiofáin says that McGuinness was there to represent Derry, which makes sense, considering the fact that McGuinness was the second-in-command of the IRA in Derry. For Belfast, he names "Gerry Adams and Ivor Bell". We know that Ivor Bell was a local commander in the Provisional IRA's Belfast Brigade. So… what was Gerry Adams' role?
Michael McDowell.
In February of 2005, Minister for Justice Michael McDowell publically named some of the members of the IRA Army Council. According to McDowell, Sinn Fein TD Martin Ferris, Gerry Adams and Martin McGuinness were all members of the IRA Army Council.
In July of 2005, McDowell expressed his belief that Adams, McGuinness and Ferris had recently vacated their positions on the council.
Council Changes.
In May of 2005, three months after McDowell's statement, The Sunday Times newspaper reported that the IRA's General Army Convention had been held and that the following changes had been made:
Martin McGuinness was replaced by Martin "Duckster" Lynch.
Sinn Fein TD Martin Ferris had stepped down.
Brian Arthurs and Sean Murray were named as possible replacements for Gerry Adams.
In July of 2005, The Sunday Times reported that Adams had been replaced by Brian Arthurs, a former commander of the Provisional IRA's East Tyrone Brigade.
Ed Moloney.
Ed Moloney is an Irish journalist that is best known for his work on covering The Troubles in Northern Ireland. He also wrote the best-selling book "The IRA – A Secret History". According to Moloney, Gerry Adams would have never been able to turn the republican movement in a political direction – unless he had been a member on the IRA's ruling body. He also claims that Adams was the commander of the IRA's Belfast Brigade during the time period when Jean McConville was kidnapped and executed. Adams' protests that he was in prison when McConville was murdered do not match up with the facts, according to Moloney – as McConville was actually kidnapped six months before Adams was jailed.
Chief of Staff.
According to a number of journalists (Moloney, Patrick Bishop, Eamonn Mallie, etc), Gerry Adams was the Provisional IRA's Chief of Staff between the 3rd of December 1977 and the 18th of February, 1978. Afterwards, he was replaced by Martin McGuinness, who held the role until 1982.
Fr Peter Forde.
Files that were declassified in 2017 showed that Gerry Adams' parish priest Fr. Peter Forde told Irish official David Donoghue that Adams was 'at most No 3' on the IRA army council. Fr Forde added that McGuinness was 'No 2'.
Facebook Comments