Johnstown Castle is a 19th-century castle that is situated near Murrintown in County Wexford, Ireland.
The castle and its beautiful gardens are an extremely popular destination for tourists, as visitors can pay a small entry fee to take a peaceful stroll around the large historic estate.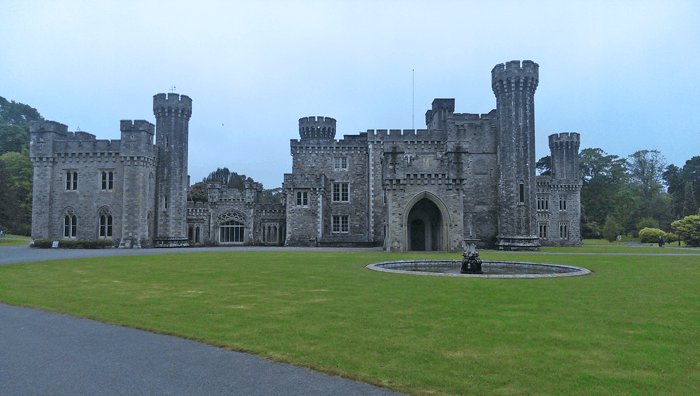 History of Johnstown Castle
The estate itself dates back to the 12th century, when the Esmondes; a family from Lincolnshire, England, settled in the area. The family arrived in County Wexford after the Norman invasion of Ireland in 1169.
In 1169, a force of Norman knights landed in Bannow, County Wexford, at the request of Diarmait Mac Murchada, who had been ousted from his seat as the King of Leinster in 1166. Mac Murchada hoped that by pledging his allegiance to King Henry II, he could return to Ireland and reclaim his kingdom, which had been taken from him by his arch enemy, the High King of Ireland, Ruaidri Ua Conchobair.
During their reign over the estate, the Esmonde family constructed two tower houses in Johnstown and Rathlannon.
These towers were stone structures that had three or four floors, with the family living on the top floor and servants living on the bottom floor. These sturdy stone towers provided protection against would-be attackers and land raiders. Pictured below is one of the towers that can be seen inside the grounds of Johnstown Castle.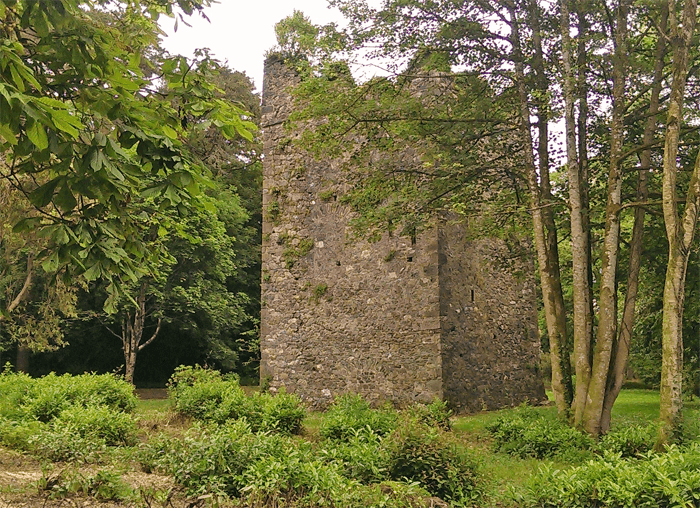 During the mid-1600s, Oliver Cromwell invaded Ireland. During his conquest of the country, he sacked Wexford and Drogheda and confiscated large amounts of land.
Cromwell is an extremely notorious figure in Irish history because of the abhorrent actions of his troops. For example, after the siege of Wexford Town, Cromwell's army broke loose and ran amok inside the town walls, massacring up to 1,500 civilians.
According to the book A topographical dictionary of Ireland, by Samuel Lewis, Oliver Cromwell spent a night on the estate in 1649, prior to his attack on Wexford Town. In his book, Lewis describes how Cromwell used the expansive land around Johnstown Castle to prepare and review his troops.
It was during the Cromwellian years that the Catholic Esmonde family was expelled from County Wexford.
In 1682, the estate was acquired by the Grogan family. In 1798, the owner of the estate, Cornelius Grogan, was hanged and beheaded on Wexford Bridge for his part in the 1798 rebellion.
Cornelius, who was the eldest son of the family, had become a commissary-general for the United Irishmen, a group of insurgents that had successfully taken over Wexford and established a republican regime.
During his trial, Cornelius claimed that his position in the United Irishmen had been overstated and that he had been forced to take a nominal lead in the organisation. After his execution, his estate in Johnstown was seized by the crown.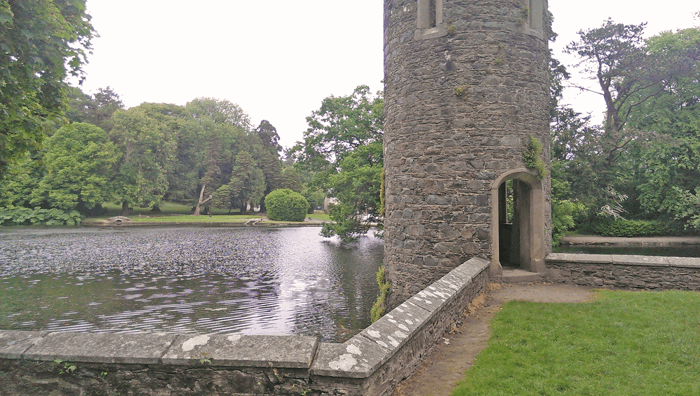 Twelve years later, in 1810, Cornelius' youngest brother, John Knox, managed to regain control of Johnstown Castle after he paid the crown court a heavy fine.
It was John and his son, Hamilton Knox Grogan, who built the castle, the lake and the expansive gardens that people can visit today, with Kilkenny architect Daniel Robertson designing the castle and parts of the surrounding land.
Pictured above is the castle lake, which is roughly five acres in size.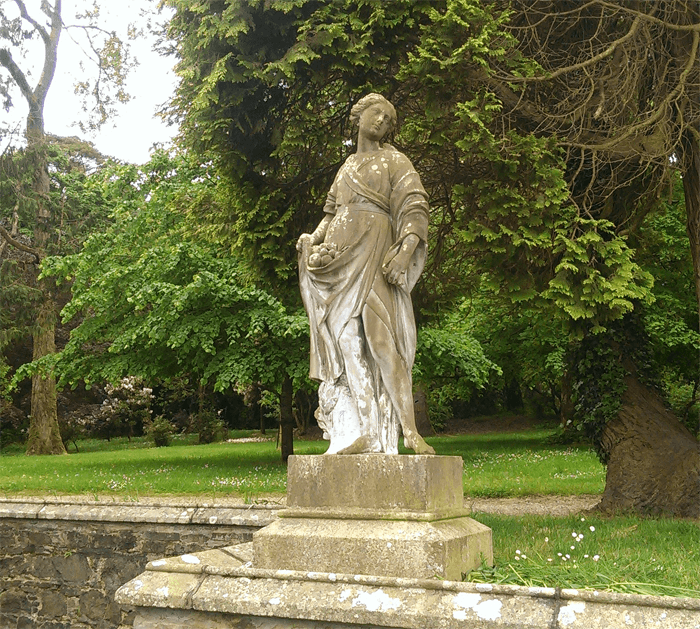 During World War One (1914-1918), German U-boats (underwater boats) were active off the coast of County Wexford. In response, the British Royal Naval Air Service stationed a number of Zeppelin airships at Johnstown Castle.
Unfortunately, these airships were an ineffective tool against Germany's military submarines, which continued to snoop around the south coast of Ireland until American seaplanes cleared the shipping lanes in February of 1918.
In 1945, Maurice Victor Lakin, who was a descendent of John Grogan, presented the estate as a gift to the Irish nation.
A few years later, the Department of Agriculture took charge of Johnstown Castle and its gardens, before setting up an agricultural institute inside its grounds.
Today, the site boasts an agricultural museum, which can be visited, provided you pay an extra charge. If you're not particularly interested in visiting an agricultural museum, you can choose to take a walk around the castle's large gardens, which contain beautiful flowers, trees, lakes, statues, and historical structures.
Directions to Johnstown Castle
The estate is located between Murrintown and Rathaspeck, about a 10-minute drive from Wexford Town.
While travelling towards the Rosslare roundabout on the N25, you will see a brown sign on your left (there will be a small bridge/overpass up ahead). This brown sign will point towards a turn-off on your right.
After you've made the turn, continue until you come to a main road that requires you to give way to oncoming traffic. Follow the sign and take a right, continuing on towards Murrintown until you see the gateway for Johnstown Castle on your left.