Because I'm a huge fan of Fantasy Football, I figured that I'd generate a "fixture difficulty" chart for each team in the Premier League (2014/2015). Basically, my hope is that I can make it easier to spot periods of the season where a particular team is facing an easy run of games (or a difficult run of games, for that matter) .
Things to take into account:
The difficulty of an opponent is based on their odds of relegation. Obviously, newly-promoted teams such as Burnley and QPR are considered to be "ripe for the picking", whereas Manchester City and Chelsea are currently the most feared teams in the Premier League.
I've added a slight adjustment for Home vs Away games. For example: Playing Burnley at home should be a tad bit easier than playing Burnley in an away fixture.
This is all "on paper." For example: Arsenal should win their opening game against Crystal Palace. However, Pulis has shown time and time again that he is capable of upsetting the bigger teams. Still, if you were being forced to bet your house on it, you'd obviously bet on Arsenal.
There are plenty of upsets at the start of season. Remember: A lot of players from the "top six" will have been at the world cup and some of them may struggle to get back into the swing of things.
For the graphs below: Red = difficult. Green = "easier".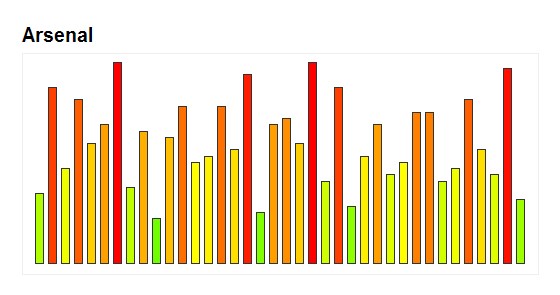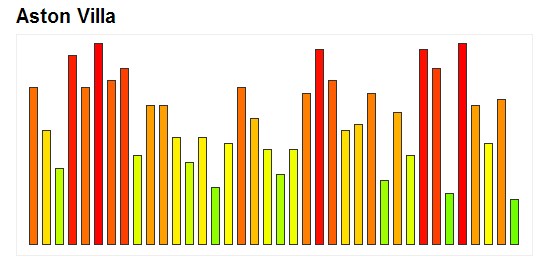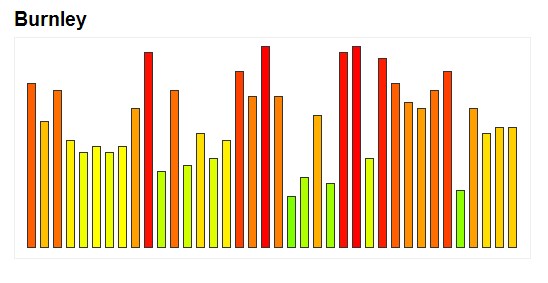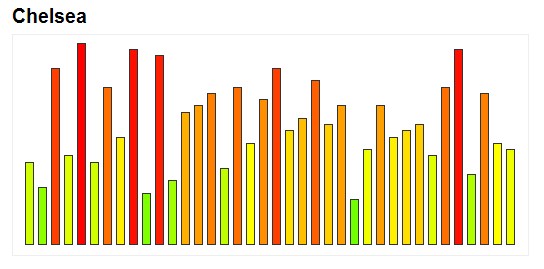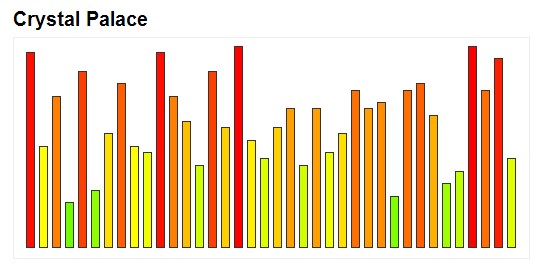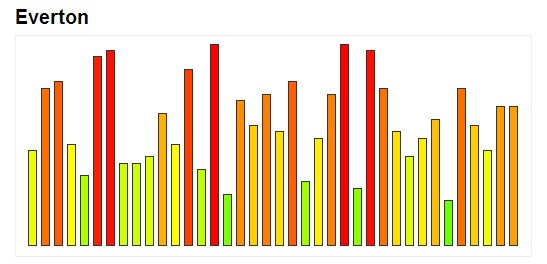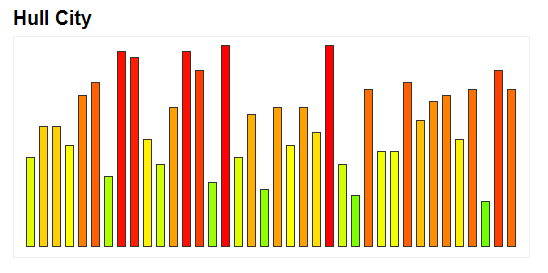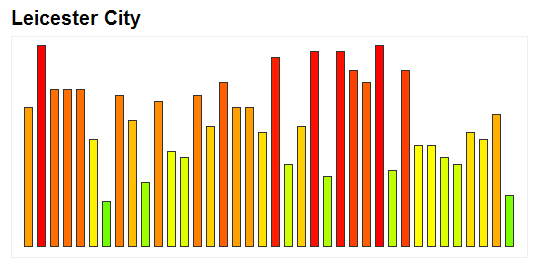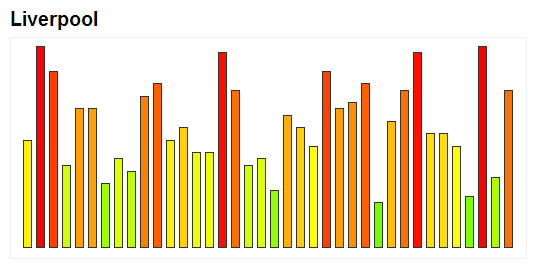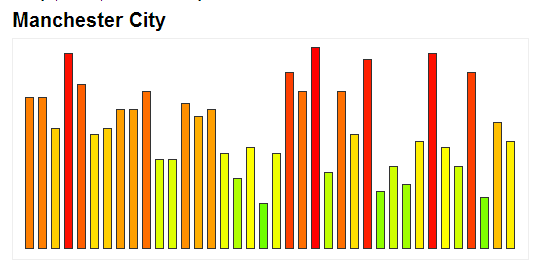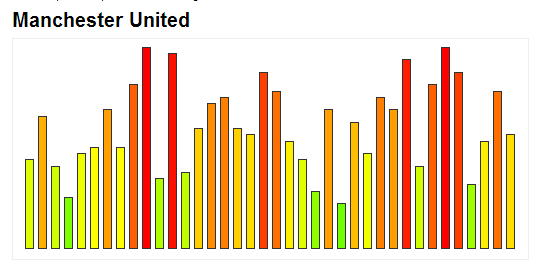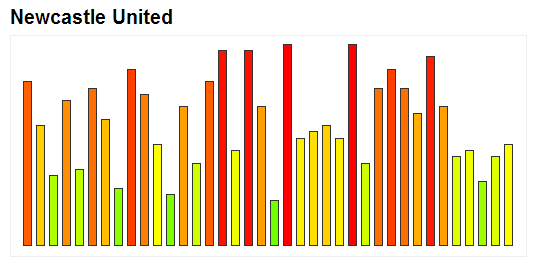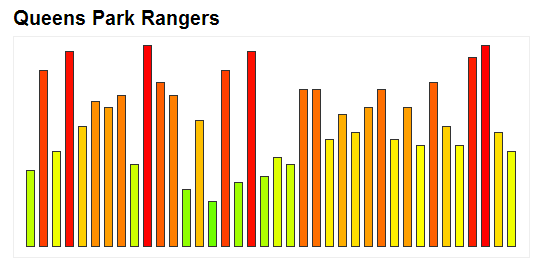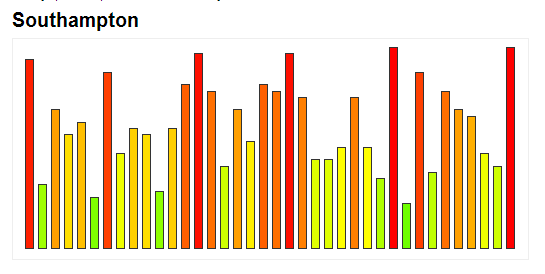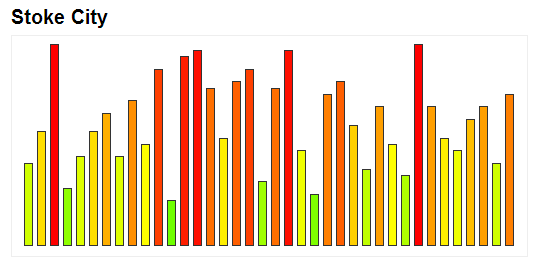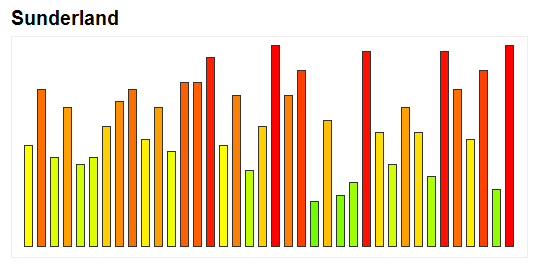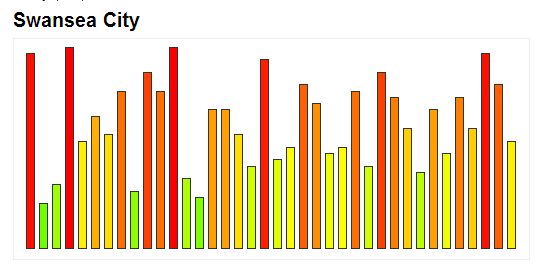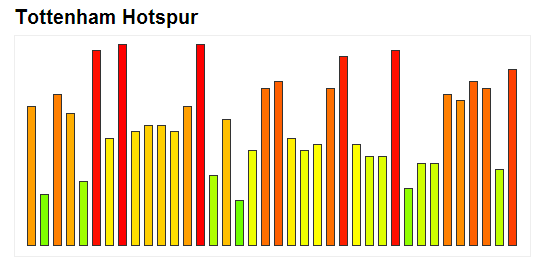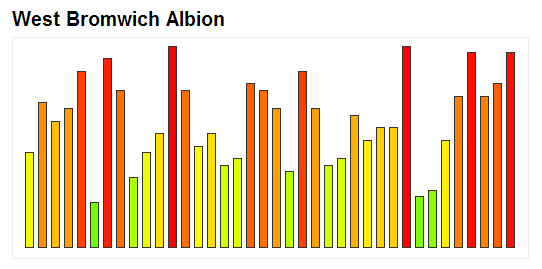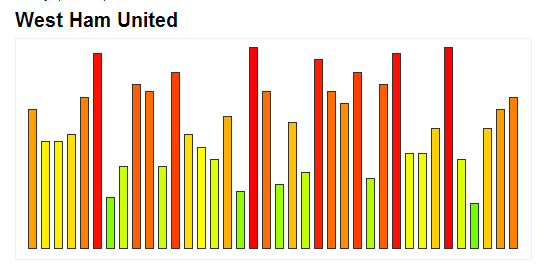 Points
A few personal remarks about some of the fixtures above:
Statistically speaking, Manchester United have the "easiest" start to the season. In the first five games of the season, the following teams will have the opportunity to hit the ground running: Manchester United, Spurs, Stoke City, Newcastle United and Sunderland (in that order).
Leicester City will receive a baptism of fire, as their first five games are extremely tough.
Manchester City will also have an extremely difficult start to the season. I think it is fair to say that they cannot afford to start the season with a hangover. If they can stay focused and get themselves through the first half of the season, they will be in a great position to go on and clinch the title. Obviously, all of that is easier said than done and a lot of it will depend on how hungry they are for another league title.
Before the end of April, West Brom will need to have put some distance between themselves and the bottom three. Their end to the season consists of fixtures against Liverpool (H), Manchester United (A), Newcastle (A), Chelsea (H) and Arsenal (A).
Stoke City will have a pretty tough mid-season.
Arsenal's performance against the big sides in the opening half of the season could have a major impact on how the rest of their season pans out. If they repeat the calamity of last season, they'll run the risk of damaging their confidence before the season has picked up steam. However, if they can rise to the occasion and steal a few points, it might put some wind in their sails. Arsenal fans will be happy to know that their February / March fixtures won't be as difficult as they were last season. i.e. If things go pear-shaped in the beginning, they should still have the opportunity to turn it around.
Although Leicester City will have a tough start to their campaign, their end to the season does provide them with the chance to escape the drop zone (provided they've managed to keep their heads above water). This will be difficult, however, as their fixture list between the 10th of February and the 4th of March is also pretty scary: Arsenal (A), Everton (A), Chelsea (H) and Manchester City (A).
Both Chelsea and Liverpool have a fixture list that looks pretty varied. How this will affect their seasons remains to be seen. Chelsea have a nice run of games between the end of February and the end of April, which is obviously an important part of the season.
If Everton can continue with the form that they displayed last season, they might have a chance at sneaking a top four spot. The tail-end of their season looks favourable, which means that they'll be in with a fighting chance if they can stay within touching distance.
Because of their easy start to the campaign, Spurs will have the chance to build up some much-needed confidence.
Likewise, Manchester United will also be provided with the opportunity to get a head start.
If you have any comments on the charts above, be sure to share your thoughts below.
Update: I've generated new graphs for the 2015 / 2016 Premier League season.