As you probably already know, Google has a useful feature that allows you to search for news articles that were published within a specific time frame.
So, this got us thinking.
Wouldn't it be interesting to read historical news articles that foreshadowed some of the major events that have happened in the world of football?
For example, when Thierry Henry transferred to Arsenal back in 1999, I don't think anyone really expected the French striker to cement himself among the likes of Alan Shearer.
His arrival from Juventus did not spark much excitement. At the time, he had only managed to scrape 3 goals in 16 appearances for the Italian side.
In fact, there were rumors floating around at the time that Juventus were willing to offer Henry, plus 14 million pounds, in exchange for Nicolas Anelka.
If someone had told you that Thierry Henry would go on to score 176 goals in 258 games, you probably would have laughed in their face.
From the article:
The club's chairman also warned failure to qualify for the Champions League this season will hit profits.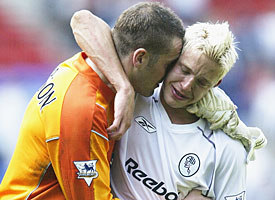 This statement turned out to be a foreshadowing of the misery that Leeds United fans would have to endure over the next 15 years.
Following a financial implosion, Leeds went from battling it out with Valencia in the Champions League semi-final to losing to the likes of Doncaster Rovers in League One.
The West Yorkshire club were left in a precarious position after it emerged that their chairman had secured huge loans on the basis that they would be paid back with the money that a Champions League qualification would bring.
Unfortunately, this gamble turned out to be rather costly as their star players left and Leeds tumbled down the food chain, going in and out of administration along the way.
We all knew that he was good for his age.
However, I don't think anyone believed that he would become such a huge force of nature.
He went from being jeered about his fancy step-overs to demolishing opposition teams and winning the Ballon d'Or.
From 2007 onward, the Portuguese forward only got better and better.
A great quote from this article:
Tottenham sporting director Damien Comolli said: "He's a player of great quality and, as we always say, our aim in each window is to improve the quality of the squad. He has the ideal combination to become a top, top player."
Little did we know that this left back would become a winger worth €91 million euros.
Kaka's quote is brilliant:
Milan were not immediately available for comment, but Kaka told the daily Gazzetta dello Sport: "I'm very happy to be here and I hope to go down in the history of Milan."
I'm pretty sure that he achieved exactly that, as he went on to score 70 goals in 193 games for the club before being sold to Real Madrid for a whopping €70 million.
After courting a number of high-profile managers for the position, Barcelona eventually decided to back one of their own by promoting Pep Guardiola.
At the time, he had been managing Barca's B team.
Following his appointment to the big seat, he immediately got rid of the likes of Deco and Ronaldinho. Two naturally-talented players who seemed to be more interested in the party lifestyle than playing football.
During his first season in charge, Barcelona went on to win the treble by strangling teams with their style of possession-based football, which included an extremely aggressive pressing style and a high defensive line.
For the next couple of years, European clubs would sigh whenever they were unlucky enough to be drawn against the Catalans.
In the early hours of July 1st, 2003, Russian billionaire Roman Abramovich purchased Chelsea football club.
From the article:
The Russian businessman pledged to plough even more resources into the club while Mr Bates said the deal would move Chelsea onto the "next level".
That summer, Chelsea spent roughly £100 million on players such as Wayne Bridge, Damien Duff, Joe Cole and Hernán Crespo.
The year after, Mourinho took the reins and the club that had spent so much of its history floundering around in the middle of the table went on to win the league.
Big name signings such as Robben and Drogba strengthened the West London club's position even further.
It is fair to say that Chelsea's rise to the top of English football threatened the old guard, which consisted of teams such as Manchester United, Arsenal and Liverpool.
Overnight, these successful clubs found themselves out-muscled in the finance department by a club that had not won a league title in 50 years.
For once, the media hype about a "wonderkid" becoming the next Maradona or Pele didn't turn out to be complete nonsense.
Here, we can see a game report for Lionel Messi's debut with Barcelona, in which he scored a late goal against Spanish side Albacete.
On September 1st, 2008, Manchester City owner Thaksin Shinawatra sold the club to Abu Dhabi United Group.
Immediately after the sale went through, the new owners flexed their financial might by snatching up Brazilian forward Robinho on the last day of the transfer window.
Over the next couple of seasons, City outspent other clubs by purchasing the likes of Sergio Agüero and David Silva.
In 2012, manager Roberto Mancini led the club to its first league trophy since 1968.
Porto failed to play to their own high standards in a goalless draw with Deportivo Coruna on Wednesday but coach Jose Mourinho still believes his side are well placed to reach the Champions League final.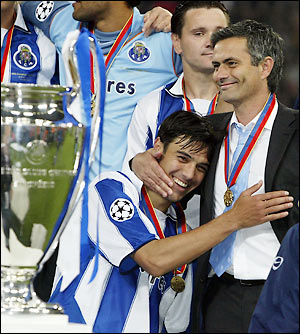 It is April 2004 and Mourinho is one month away from winning the Champions League with Porto.
In the seasons ahead, he will win the Premiership with Chelsea, steer Inter Milan towards a historic treble and challenge Barcelona's dominance by winning La Liga with Real Madrid.