Looking to unlock Leon's desk in the Resident Evil 2 remake? If so, this guide should have you covered!
When you reach Leon's desk in the West Office of the Racoon Police Department, you will find a note that was written by Lieutenant Marvin Branagh. This note reads as follows:
Leon S. Kennedy, we're putting you on a very special case for your first assignment. Your mission is… to unlock your desk! The key to your success is in the initials of our first names. Input the letters in order of our desks. There are 2 locks – 1 on each side of your desk. Make sure you get them both.
Name plates.
If you look at the desks to your left and right, you will find the name plates of your colleagues. Here is a screenshot showing the name plate on David Ford's desk:
The left lock.
On the left side, your colleagues are as follows:
Neil Carlsen
Elliot Edward
David Ford
This means that the combination code for the left lock on Leon's desk is NED:
The right lock.
On the right side, you have:
Marvin Branagh
Rita Phillips
George Scott
This means that combination code for the right lock on Leon's desk is MRG:
Note that George Scott's name plate will probably be lying on the ground (this is assuming you've already taken out the uniformed zombie version of George that was sitting at his desk).
To get the correct order of initials, you have to go in an anti-clockwise direction, starting at Neil Carlsen's desk on the left side and ending at George Scott's name plate on the right: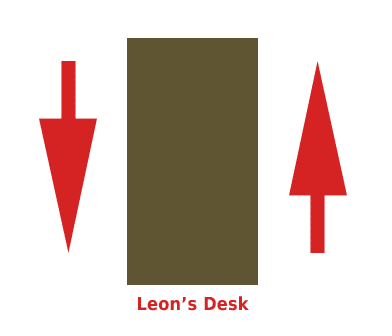 What is inside the desk?
What you find inside Leon's desk will depend on what character you are playing as. If you're playing as Leon, you will receive a High Capacity Magazine, which allows you to hold more bullets per clip. If you are playing as Claire, you will find a Speed Reloader.