In the past, Hollywood has typically portrayed serial killers as psychotic white males. Furthermore, white serial killers such as Ted Bundy and Jeffrey Dahmer have received a significant amount of media attention.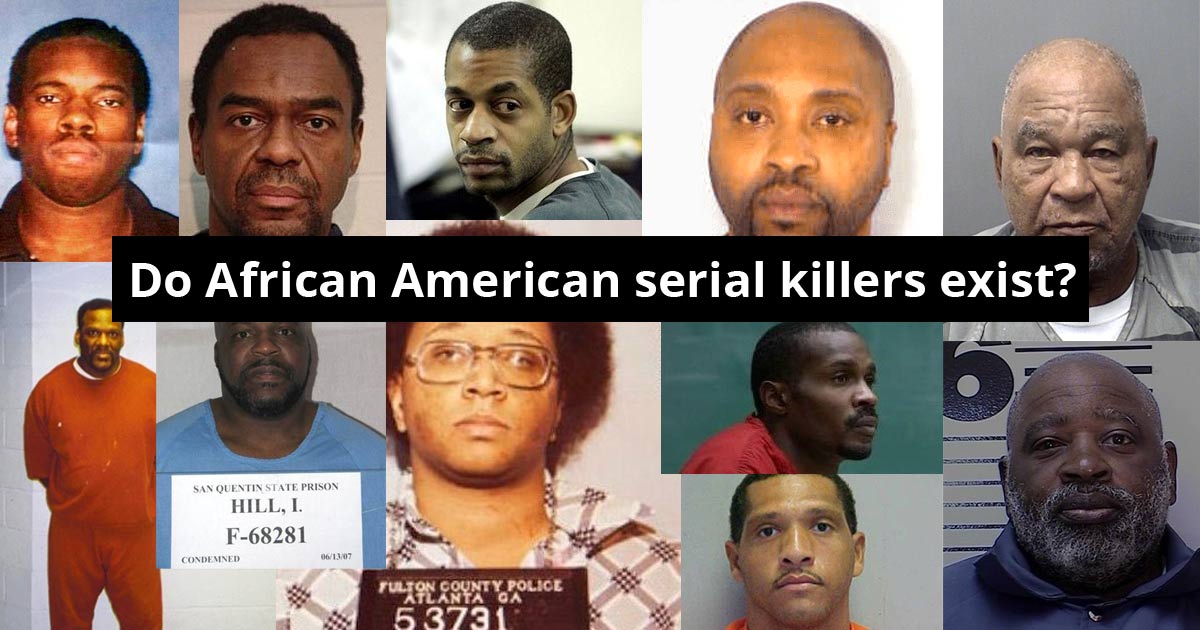 As a result, a lot of people end up making the assumption that all serial killers are white. However, this is not the case. There have also been many cases of black serial killers. It's just that their cases haven't drawn as much attention. If you look hard enough, you will find dozens of examples of African American serial killers. The difference is, you probably haven't heard of most of their names.
Examples of black serial killers.
Let's take a look at a few examples of black serial killers.
Samuel Little.
In 2012, an African American man called Samuel Little was arrested at a homeless shelter in Louisville, Kentucky. Although Little was originally arrested on a drugs-related charge, his DNA eventually linked him to the murders of three women in Los Angeles during the 1980s.
Carol Ilene Elford, Guadalupe Duarte Apodaca and Audrey Nelson Everett were all killed on separate occasions and then dumped on the streets of LA.
Following his extradition to California, authorities soon realized that Little may have been responsible for other murders.
Although Little initially protested his innocence, this changed after a court found him guilty of murder and sentenced him to life in prison. Two years after his conviction, Little began to confess to other murders. He even began to draw sketches of his victims.
In November of 2018, the FBI announced that they had confirmed 34 of Little's confessions. The Bureau's ViCAP team had done a background check and discovered that Little's past movements matched up with the details that he provided.
Little began providing these confessions in the hope that authorities would move him to another prison. At this stage, he had nothing to lose. He was 78 years old and he was already serving a life sentence without the possibility of parole.
So far, Little has claimed responsibility for 93 murders. As of writing, the FBI have been able to confirm at least 50 of these.
This makes Samuel Little one of the most prolific serial killers in United States.
Wayne Williams.
Wayne Williams is believed to be the killer behind the Atlanta child murders that took place in the late 1970s and early 1980s. Between July 1979 and May 1981, at least 28 children and young adults were killed in a series of murders that took place in the city of Atlanta, Georgia. The victims were mostly black males.
Wayne Williams became the main suspect after police on a stakeout heard a splash underneath a bridge. Immediately afterwards, a 1970 Chevrolet station wagon was spotted turning around on the bridge. Police pulled the car over and found Williams in the driver's seat.
Inside the car, police discovered dog hairs and fibers that ended up matching the fibers found on some of the victims. The fibers had come from a carpet inside Williams' parent's house.
Police became suspicious of Williams after he lied about where he was driving to that night. He told investigators that he was on the way to meet a woman called Cheryl Johnson. However, no record of this woman existed. Nor was there any evidence that such a meetup had been planned.
Initially, people believed that the murders were racially motivated. However, criminal profilers from the FBI felt otherwise. They believed that the killings were sex crimes. They also predicted that the killer would be black. This prediction was based on the fact that most serial killers back then tended to murder people from their own race.
In 1982, Williams was found guilty of the murders of Nathaniel Cater and Jimmy Ray Payne and sentenced to two consecutive life terms in prison.
DNA testing.
In 2007, DNA testing on human hair found on one of the victims failed to eliminate Wayne Williams as a suspect. Earlier that year, dog hair found on one of the victims was also found to have the same mitochondrial DNA sequence as the dog that Williams' owned.
Carl Eugene Watts.
Carl Eugene Watts was an African American serial killer who murdered 14 women between 1974 and 1982.
Watts used to kidnap his victims from their homes and then torture them. In 1982, he was sentenced to 60 years in prison. He died in prison in 2007 from prostate cancer.
Henry Louis Wallace.
Henry Louis Wallace is an African American serial killer who murdered ten woman in Charlotte, North Carolina during the 1990s. Wallace gained the nickname the "Taco Bell Strangler" because he worked as a supervisor at one of the chain's restaurants. Three of his victims had also worked alongside him at Taco Bell.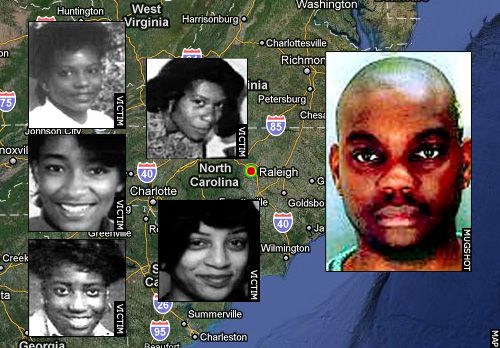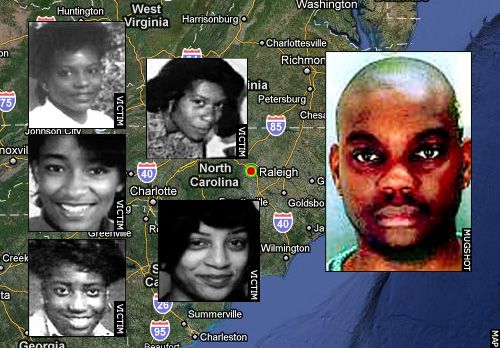 Wallace is currently on death row.
Other examples.
Other notable examples of African American serial killers:
Chester Turner murdered 15 women in Los Angeles between 1987 and 1998.
Derrick Todd Lee killed seven women in Baton Rouge between 1992 and 2003.
Paul Durousseau was responsible for the rape and murders of seven women between 1997 and 2003.
Craig Price murdered 4 people in Rhode Island during the late 1980s.
Mark Goudeau raped and murdered 9 women in Phoenix, Arizona in 2005 and 2006.
Eugene Victor Britt killed eleven women in Gary, Indiana.
Ivan Hill is responsible for at least 9 murders in Los Angeles. He is currently on death row.
Between 1986 and 1987, Philadelphia native Harrison Graham murdered seven women.
Anthony McKnight became known as the "East Bay Slayer" after he murdered 5 women in Oakland between October 1985 and January 1986.
Shelly Andre Brooks raped and murdered 7 sex workers in Detroit between 2001 and 2006.
Charles Lendelle Carter in Georgia pleaded guilty to 3 murders. However, experts believe that he may have been responsible for more.
Matthew Macon confessed to murdering 7 women in Michigan.
As you can see, there are plenty of examples of African American serial killers.
Conclusion.
Race does not seem to matter. Serial killers can be any race. They can be any nationality or any religion. White, African American, Asian, Hispanic, French, Russian, Australian – You name it. It does not matter. All races are capable of carrying out depraved and brutal acts.
Facebook Comments