Crime scene staging refers to an attempt by the perpetrator to mislead the investigation.
The offender will do this by toying with the crime scene and introducing false evidence.
An example of crime scene staging.
Take the following example.
A man brutally murders his wife with a kitchen knife following a heated argument. Immediately afterwards, he panics and realizes that he will be the police's main suspect.
Consequently, he decides to make it look like a break-in occurred.
In an effort to make the killing seem like a burglary gone wrong, he breaks a window at the rear of the house and then hides some of their valuable belongings. He also dumps several drawers onto the floor and smashes random objects.
By doing this, he is attempting to deflect attention away from himself.
In other words, he is hoping that this staged crime scene will fool investigators into believing that the perpetrator broke into the house and then murdered his wife during a physical confrontation.
However, experienced detectives will always be on the lookout for staging. If a small detail does not line up with their experience of previous crimes, they will quickly realize that someone is trying to lead them astray.
In this fictional case, the victim has dozens of stab wounds—a sign that it was a crime of passion. Furthermore, they are unable to find any evidence of footprints near the side gate.
While inspecting the house, they also realize that this "burglar" ignored an extremely valuable item and that he broke a random object that wasn't in his path.
Consequently, they begin to suspect the husband.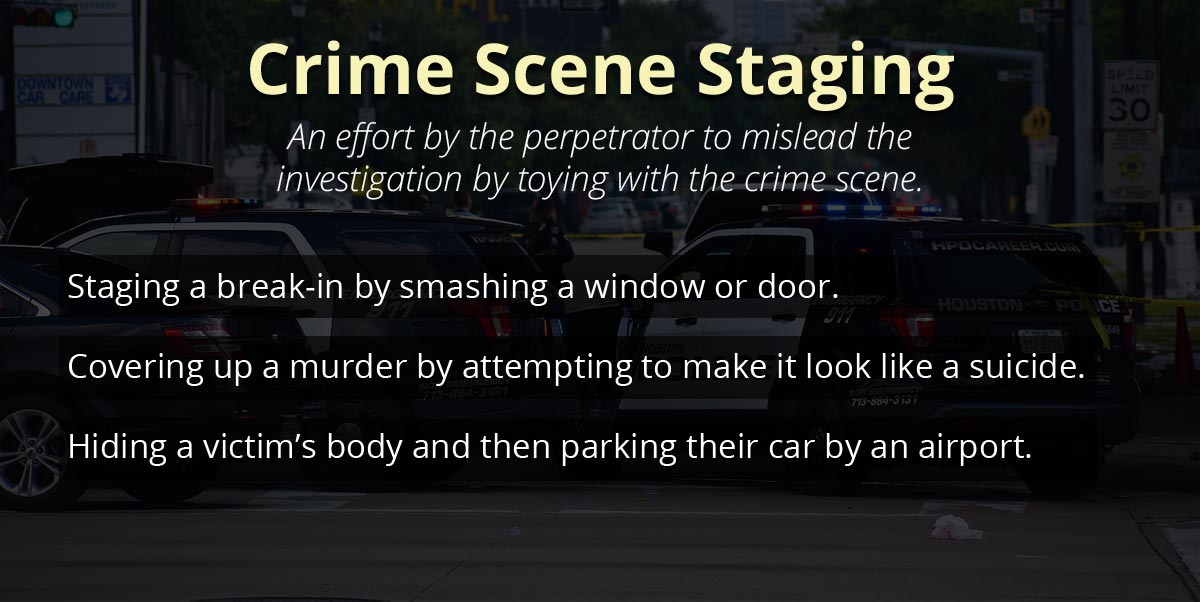 Ted Bundy.
In January of 1974, serial killer Ted Bundy abducted Lynda Ann Healy from her basement bedroom in the University District of Seattle.
However, before leaving, he decided to make it look as though Healy had left the house on her own accord.
To do this, he did three things.
He made her bed.
Bundy put her bloody nightgown in the closet.
He took her bag and clothes with him.
In this case, Bundy staged the scene in order to buy himself some time. By making everything seem as normal as possible, he was able to delay the start of a homicide investigation.
Had he not done this, it is likely that one of Healy's roommates would have immediately spotted the bloodstains.
Other examples.
Here are some other examples of crime scene staging:
Attempting to make a murder look like a suicide by putting a gun in the victim's hand.
Committing insurance fraud by making it appear as though vandals broke into a house and destroyed valuable items.
Covering up a murder by hiding the body and creating a fake ransom note.
Leaving a victim's car close to an airport.
Buying airplane tickets under the victim's name.
Drugging the victim and then forging a fake suicide note.
Leaving behind false evidence that might mislead the investigation.
As you can see, offenders will use a variety of methods to cover up their crimes and deflect attention away from themselves.
Thankfully, law enforcement is pretty adept at seeing through these attempts. This is because most perpetrators lack the knowledge and experience to avoid making any mistakes.