This is a short guide on how to hide someone from your FYP page on TikTok so that you don't have to see any of their videos again.
TikTok's "For You" page shows videos that the algorithm thinks you might like. Unfortunately, this section can end up being dominated by certain users. As a result, you might end up seeing the same person over and over again.
TikTok also tends to favor videos from users who live relatively close to you. This can lead to an annoying situation where that local "influencer" is repeatedly showing up on your FYP page.
Like seriously, please go away Sharon.
Thankfully, TikTok has recently updated their "Not Interested" feature to help deal with this kind of issue. In the past, nobody really knew how this feature worked or what it actually did. It was just a button that did something vague in the background.
However, since then, TikTok has added two very specific options to it.
November 2021 update.
Unfortunately, TikTok has decided to remove this feature. As a result, you can no longer tell the algorithm that you are not interested in a specific user.
The only workaround in this case is to actually block them. To do this, you can:
Visit their profile.
Click on the three dots in the top right-hand corner.
Press the "Block" button at the bottom.
Original article continues below.
Press down on the video.
Once you see a video on your FYP page from a user that you do not like, simply press down on the video until a white menu appears.
This menu will provide you with options to save the video and add it to your favorites. It will also provide you with options to report it or register your "disinterest".
In your case, you will need to click on the "More" option beside "Not interested":
After that, a second menu will appear: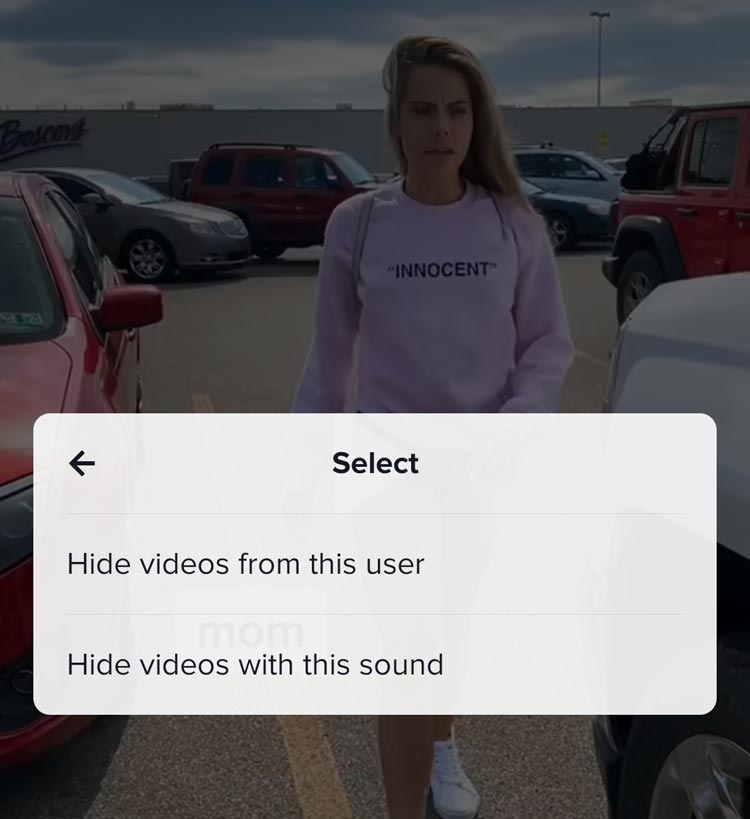 Here, you can see that there are two options:
Hide videos from this user.
Hide videos with this sound.
In your case, you want to hide all videos from a specific user. Therefore, you will need to click on the first option.
Once you have clicked on this option, TikTok will automatically hide the video and inform you that the app will show "fewer posts like this from now on."
By doing this, you are essentially telling TikTok's algorithm that you do not want to see any videos from this person on your FYP. You are essentially "training it" to block that TikToker from showing up on your feed.