On August 5th, 2011, Internet personality "Zyzz" died from a heart attack at the age of 22.
The bodybuilder, whose real name was Aziz Shavershian, went into cardiac arrest at a sauna in Bangkok.
According to news reports, someone raised the alarm after they discovered the young man in an unconscious state.
Although the medical team at Chulalongkorn Hospital attempted to resuscitate him, they were unable to do so.
A post-mortem examination of Zyzz's body revealed that the cause of death was an "undiagnosed heart condition." More specifically, an enlarged heart.
In simple terms, this means that the 22-year-old had a heart issue that he didn't know about.
A number of online sources state that he had a congenital heart condition.
However, this is wrong, as it suggests that he had the issue since birth.
Zyzz's mother did not use the word "congenital" in her public statement. Nor is it present in the autopsy report.
All in all, this seems to be a misquote or a misinterpretation. That, or a journalist took certain "artistic liberties" while summarizing his death.
In the months leading up to his demise, there were a number of signs that something was wrong with Aziz. According to his parents, their son had high blood pressure and was experiencing shortness of breath.
These are both symptoms of an enlarged heart.
Did Zyzz die because of steroids?
Although Zyzz publicly claimed that he never took steroids, this is untrue.
In August of 2008, he posted about using them on a bodybuilding forum.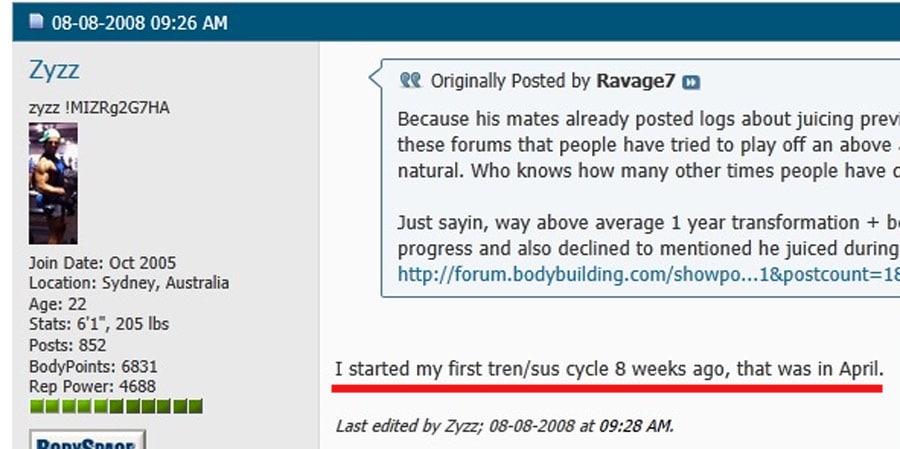 A fellow bodybuilder called Tim "Sharky" Ward said that he had warned the 20-year-old about his steroid use in the days leading up to his death.
According to Ward, Zyzz was like a "child in a sweet shop" in Thailand.
His older brother, Said Shavershian, also alluded to his "roids" usage by saying that the pressure to look good "got to him in the end."
Last but not least, a spokesperson for the stripper company that employed him stated that he was a "lovely guy, aside from the steroids."
According to the NHS, abusing prescription medicines for the sake of building muscle can lead to heart attacks and strokes, among other conditions.
We also know that this kind of drug abuse can lead to dilated cardiomyopathy.
If we take all of this into account, it seems extremely possible that Zyzz died as a direct consequence of taking steroids.
If he did happen to have a genetic heart condition, then it is likely that his use of synthetic substances exacerbated it.
Didn't he have a family history of heart problems?
Although Shavershian reportedly had a family history of heart problems, we do not know if those problems were genetic or not.
Simply put, this is a very vague statement.
Many cardiovascular diseases are caused by unhealthy lifestyle habits. For example, smoking or having a bad diet.
Therefore, we have no way of knowing if these "heart problems" were congenital or not.
He was an inspiration to many.
Over the years, Zyzz built up a large fanbase on the Internet.
He uploaded motivational videos in which he promised his followers that they were "all going to make it."
Before his rise to fame, he was a skinny high school kid who liked to play World of Warcraft.
His transformation into a bodybuilder inspired thousands of young men, many of whom resonated with his earlier teenage self.
They saw him as the perfect example of what someone can achieve if they put their mind to it.
To them, he represented the type of change that they wanted to see in their lives. He was the embodiment of what they could be one day.
Sadly, it all ended in tragedy on that Friday night in August of 2011.
Although Zyzz has been dead for more than ten years, he is still a source of inspiration for thousands of people.
On TikTok, you'll find videos about him with hundreds of thousands of likes. The comment sections are awash with young Gen-Z men, most of whom were small children when Zyzz passed away.
Regardless of how he died, or whether or not he made bad choices, one thing is for certain.
Zyzz left behind a legacy that still resonates today.