On TikTok, the word "pinned" can mean one of two things.
The app allows creators to "pin" videos to the top of their TikTok profile. It also gives them the ability to pin comments to the top of their videos.
What is a "pinned" video?
If someone tells you to look at their "pinned" video, then it means that they have pinned a video to the top of their profile.
Take a look at the following screenshot.
In the image above, you can see that this creator has pinned two videos to the top of his profile.
By default, the app orders videos in a chronological order, from new to old. However, the "pin" feature gives creators the ability to push certain content to the top, above everything else.
In many cases, people will place their most popular videos at the top because it gives visitors a "taste" of what their best content is like.
What is a "pinned" comment on TikTok?
TikTok creators can also pin people's comments to the top of their videos.
By doing this, they are essentially highlighting the comment by making sure that it is visible to anyone who opens the comment section.
More often than not, creators will pin comments that they like. For example, if someone makes a funny joke or if they provide an interesting explanation about the content.
In certain cases, they may also push their own comments to the top.
How do you pin a video?
To pin a video on TikTok, simply open it and then click on the three dots underneath the comments icon.
Once you have done that, the following menu will appear.
Note that you can only pin your own videos. In other words, you can't add other people's videos to your profile.
How do you pin a TikTok comment?
If there is a comment on your video that you want everyone else to see, simply press and hold down on it until the following menu appears.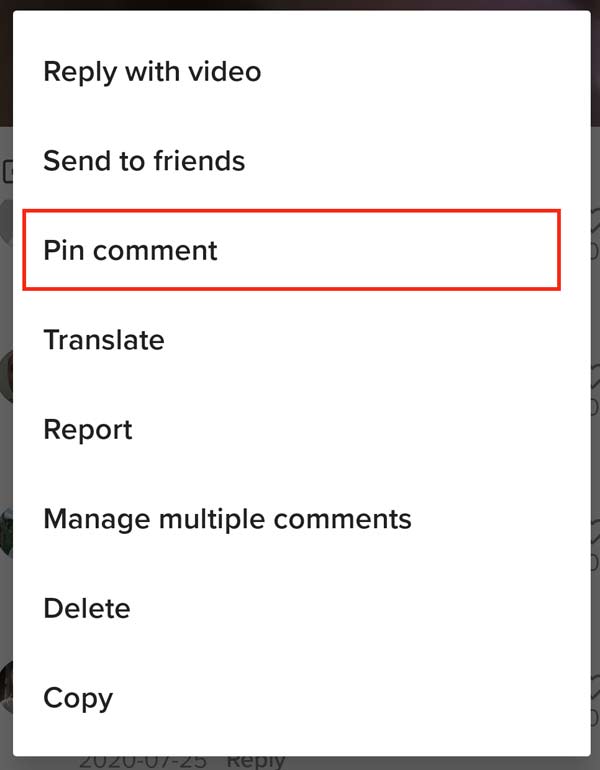 Once the menu appears, click on the "Pin comment" option.
After that, the comment will appear as "Pinned" at the top of your video.