This is a guide on how to view who someone recently followed on Instagram.
Update: This no longer works because of an update in June of 2021.
At the start of June, 2021, Instagram updated its website.
As a result, users are no longer able to see who someone else recently followed.
We warned our readers about the possibility of this back when we first wrote this article.
It was always likely that they would eventually "fix" the following list on the website version.
Unfortunately, there is nothing that can be done about this. There is no "trick" to get around it unless you plan on keeping a record of who they are following.
Furthermore, you should be wary of any website or app that says otherwise.
Original article continues below.
Firstly, should you really do this?
OK. So your curiosity is starting to get the better of you and you're ready to get hurt again. The paranoia has been slowly creeping in over the past couple of days and now you can't take it anymore. You need to reassure yourself. It's just a quick "checkup", you tell yourself.
However, we both know what you're really doing. You're gambling with your emotions. If you see who they recently followed on Instagram, there is no cause for concern. Everything will be good again.
On the other hand, if you see something that you don't like, it might feel like a punch in the gut.
In short, should you really do this? Think about that for a moment before you scroll down.
How to view who someone recently followed on Instagram.
Unfortunately, the Instagram app will not show you who the person in question has recently followed. This is because the "Following" list on the app is not displayed in chronological order. In other words, if you click on the "Following" button underneath their profile, the list will be randomly sorted.
I know this because I have personally tested it.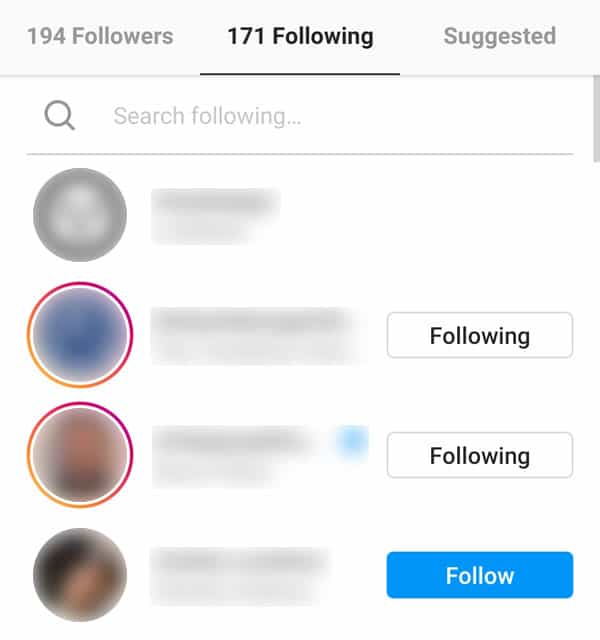 As a result, the app is pretty much useless to us. So let's just park it aside for the time being.
The website version of Instagram displays the "Following" list in a chronological order.
Thankfully, there is a way around this. For some reason or another, the "Following" list on the website version of Instagram will show you who they recently followed.
Therefore, you will need to login to Instagram through your web browser and then check. This can easily be done via a laptop or a desktop PC. However, it will also work on your phone's web browser.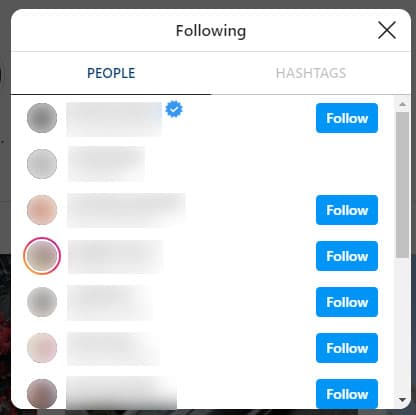 I personally tested this in October of 2020 and can confirm that the "trick" still works. Above is a screenshot of my "Following" list from the website version of Instagram. In this case, I used another account to confirm it via my desktop PC.
Seeing who they recently followed via mobile.
I was also able to confirm this workaround using the Chrome browser on Android.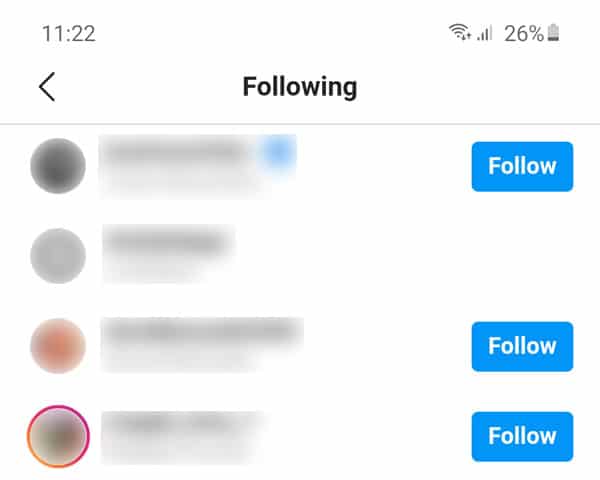 In this case, the website showed me the exact same list of people that I had recently followed.
And that's it! Your heart should be breaking in no time!
Will this "trick" continue to work?
Personally, I doubt it. Instagram randomized the "Following" section on the app for a reason. To me, it seems as though they either forgot about changing the website version or they're holding off on modifying it for a while. It is likely that sooner or later, this "bug" or "trick" is going to be noticed and fixed.
And maybe that's for the best. Do you really want to spend your relationship checking up on what your boyfriend is doing? Do you really want to discover who your ex has started following on Instagram? In my opinion, it is better not to know about things that could jeopardize your mental health. People follow each other all of the time and it doesn't necessarily mean anything.
Related guides.
Related guides that you might find interesting: