Update: July 22 7:20PM British time. Facebook has removed the account in question. So far, I've managed to gather multiple screenshots of the profile, as well as a screenshot of a private message that "Selina Akim" sent to people.
Update: July 23 11:30AM. German police have said that they believe the shooter may have hacked a Facebook account in order to lure victims to McDonald's restaurant
Yesterday afternoon, an 18-year-old Iranian German named Ali Sonboly opened fire at the OEZ Munich shopping centre in Germany. While I was skimming through some of the various tweets about the shooting, I came across a link to the following Facebook post:
Note how the post in question was posted 4 hours ago – at around 2PM British time. Well before the shooting took place.
The post in question reads:
Kommt heute um 16 Uhr Meggi am OEZ ich spendiere euch was wenn ihr wollt aber nicht zu teuer.
Basic translation: Come to the OEZ shopping centre at around 4PM and I'll buy you something as long as it is not expensive.
Another user posted the following screenshot, which shows that the Selina Akim account has posted various statuses – all of which attempted to lure people to the OEZ Munich shopping centre.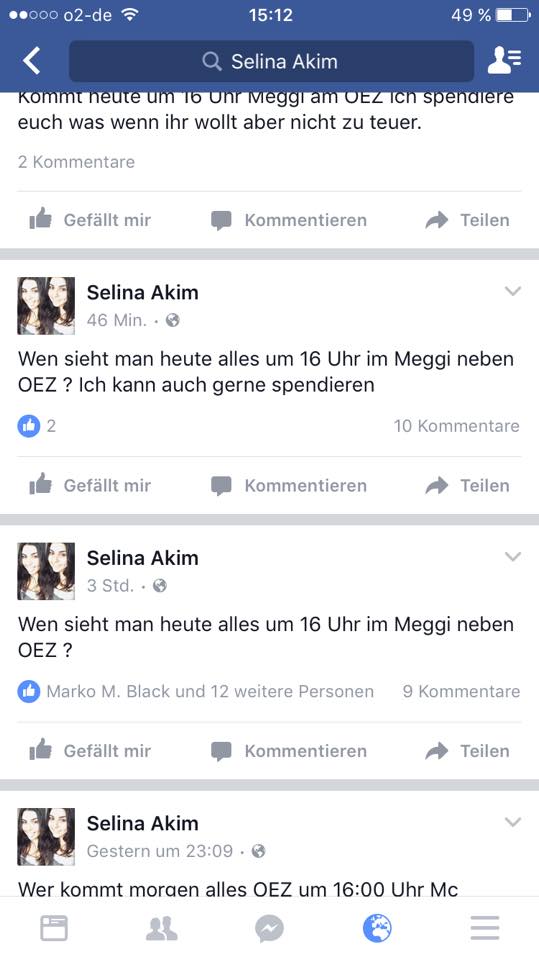 "Her" first invite to her followers was posted on Facebook last night, at 11:10PM German time. In her post, she says:
Wer kommt morgen alles OEZ um 16:00 Uhr Mc donalds oder Bommerang?
It seems that somebody created a fake Facebook account of a pretty Middle Eastern woman – for the sole purpose of gathering a large list of friends and followers. Once the account had amassed enough friends and followers, whoever was running the account began to invite everyone to the shopping centre. The bio of the account read (translated from German):
Hi. My old account was closed because it was hacked. This is my new account!
Note that the first photograph on the account was uploaded back in June, which means that the person behind it had plenty of time to pick up a large list of followers and friends. They also set their friend list to private, which means that we have no idea how many friends this "Selina Akim" account had managed to gain before today's shooting.
A screenshot of "her" bio, which stated that she is from Starnberg: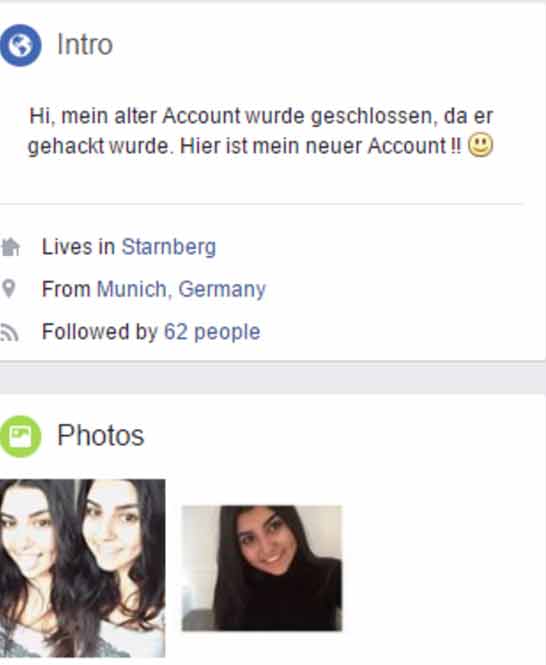 Somebody has also posted the following screenshot, which shows that the account was actively messaging people: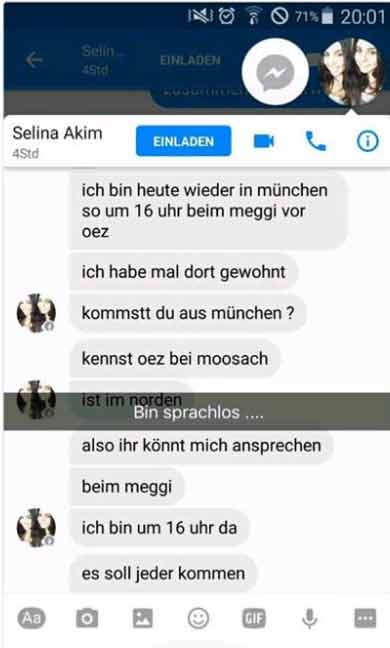 Translations:
I am now back in Munich at Meggi (nickname for McDonald's) at 4PM.
I lived there once.
Are you from Munich?
Do you know the Greek OEZ Moosach? (Moosach is a district in Munich).
It is in the north.
So you can talk to me.
At McDonald's (Meggi).
I'm here at 4PM.
Everyone should come.
By the way, the Snapchat caption says "Bin sprachlos", which means "I am speechless."