A few days ago, I was having a look at Wexford Town on the Google Maps Street View feature when I realised that a sizeable number of shops and businesses have closed down since the pictures were taken. If my memory serves me correctly, the Google Street View car last visited the town back in 2009, which means that nearly a half a decade has passed since the imagery was last updated. It's interesting to see how quickly the town changed in such a short period of time, as the recession took hold and many popular businesses were forced to move their premises or call it a day.
Crossroads Shop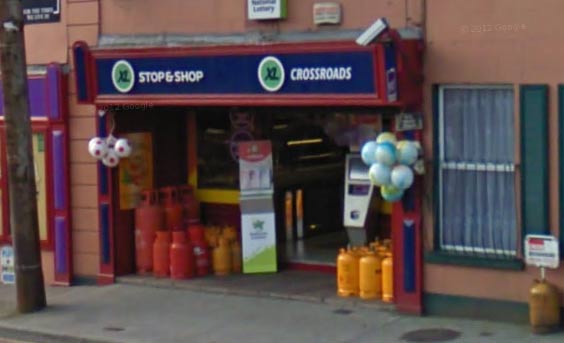 Crossroads Shop was situated at the top of Hill Street, beside Gaynor's Pub. In August of 2013, its owner Erdie Murphy was forced to close the store after a lengthy and continuous decline in business, which he blamed on the introduction of a nearby traffic management system. According to Erdie, the introduction of nearby traffic lights made it extremely difficult for passers-by to stop their cars and pick up fuel and whatnot. The store had been in business for over 44 years.
Legal – Head Shop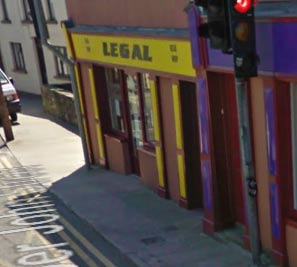 Legal opened during a period when Head Shops were growing in popularity around the country. A year later, the Criminal Justice (Psychoactive Substances) Act of 2010 outlawed many of the "legal highs" that were sold in these shops. Following the introduction of the act, the vast number of Head Shops in Ireland were forced to close.
BPM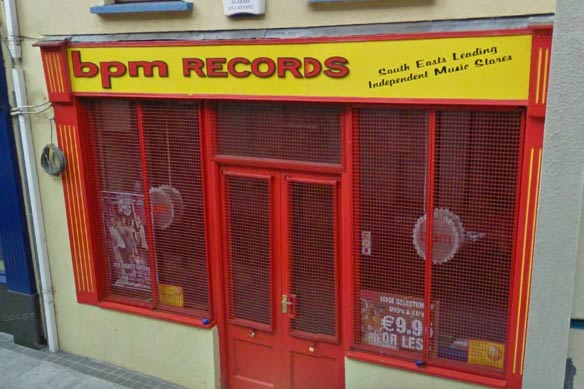 In my opinion, BPM was the go-to place to buy CDs in Wexford Town. Its popularity stemmed from the size of its collection, which was larger and more varied than that of its competitors. I remember how the shop had headphones that allowed you to listen to some of the latest albums that were on sale. Staff members were also willing to let you listen to a CD of your choice before you decided to purchase it or not. Unfortunately, it seems that the dawn of the digital age has led to the closure of many music stores like BPM, which were unable to compete with free Internet downloads and the rise in popularity of digital distribution services such as iTunes. Nowadays, this shop is rented by Reader's Paradise.
First Active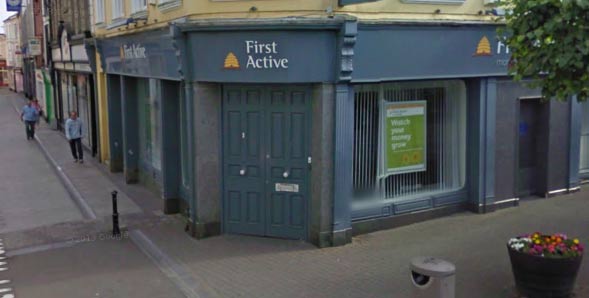 This First Active branch in The Bull Ring was closed after the bank decided to merge into The Ulster Bank back in 2009. It was later replaced by the clothing retailer Fat Face, which is still there today.
The Music Factory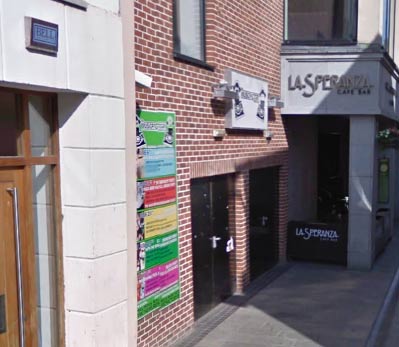 Since Whites Hotel was re-opened back in 2006, three night clubs have been located on the premises. The first was The Colony Nightclub, which was extremely popular for the first few months. In fact, it was so popular that many people saw it as a genuine challenger to The Centenary Stores, which is considered by many to be the most popular night club in Wexford Town. Unfortunately, The Colony's popularity began to wane after it picked up a bad reputation for violence and drugs. After business faltered and The Colony was forced to close, it was eventually replaced by a re-branded nightclub called The Music Factory. Unfortunately, The Music Factory failed to shake off the reputation of its predecessor, which meant that it struggled to compete with the popularity of The Stores. Despite a glamorous launch night and the appearance of celebrities such as Abi Titmuss and Kevin Doyle, The Music Factory struggled to keep its head above water as the recession deepened and crowds began to dwindle. These days, the building houses another nightclub called The Metropolis Nightclub, which opens every Saturday between 10.30pm and 2am.
VILA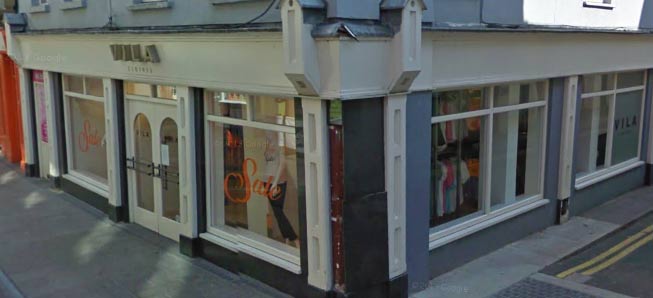 This picture was taken back when VILA was situated across from Extra Vision on the North Main Street. Since then, the clothing shop has moved further up the town, opposite The Book Centre. The premises currently houses a hair salon called "Alan Keville for Hair".
Permanent TSB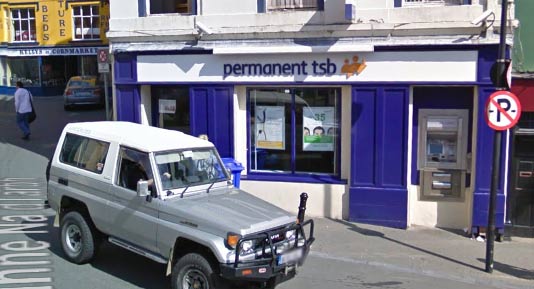 This was Permanent TSB's premises in The Bull Ring. Since this picture was taken, the bank has moved further up towards The Art Centre. I still remember how awkward the ATM was. For some reason, it seemed that there was always some sort of sun glare on the screen.
Cornmarket Centre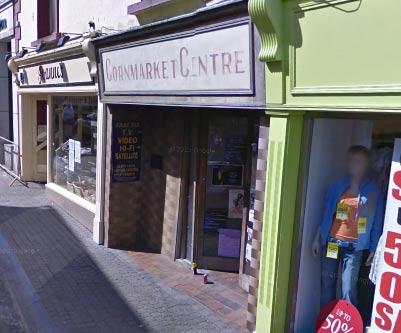 I don't really remember the Cornmarket Centre too well. Yes, I remember the actual building, and yes, I remember the corridor of steps that led you to the back of Rowe Street. However, I can't seem to remember going into any of the shops that were located inside it. If my memory serves me correctly; it was some sort of mall or something? If you've any further background information about this place and what happened to it, feel free to post a comment in the comment section below. The last time that I passed by, the place was closed up and there was a small "soup shop" at the front.
O' Neills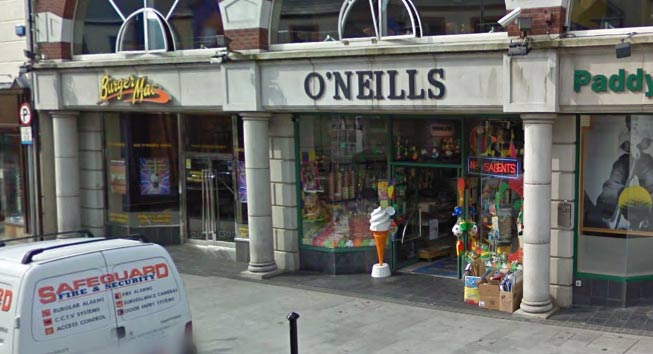 For years, O' Neills newsagents was located right next to Burger Mac on Wexford's North Main Street. Throughout my late teens and early twenties, I'd often stop by this shop in order to purchase cigarettes or a cold drink. Unfortunately, it seems that the owners of O' Neills fell into difficulties during the financial crisis and were forced to sell the premises. Nowadays, the building houses a euro saver shop.
Shooters Bar

Shooters was an extremely popular bar back in 2005 and 2006 etc. Back when I was 18, I remember how we'd all go there for a few drinks before heading off to one of the nearby nightclubs. On a Friday, my friends and I would often stay there, relax and play a few rounds of darts. Currently, the premises houses another bar called Metro 17, which was established back in September, 2009.
MACE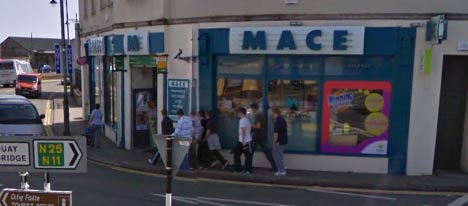 For as long as I can remember, there was always a newsagent across from the train station in Redmond Square. There, you'd buy your train ticket or your bus ticket, as well as cold drinks and ice creams for when you were lounging out with your friends in the grass across the road. I remember that this shop also had a Post Office, which has since moved up into the North Main Street, down the road from Shaws.
Hughes & Hughes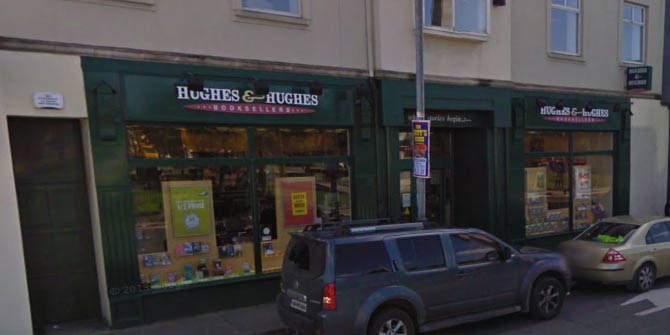 Hughes & Hughes was a book shop that was located beside O'Briens sandwich bar in Redmond Square. The shop was closed when the company that owned the chain collapsed in 2010. In the years leading up to the collapse, the company had built up debts totalling €15 million.
Ned Buggy Sports – Selskar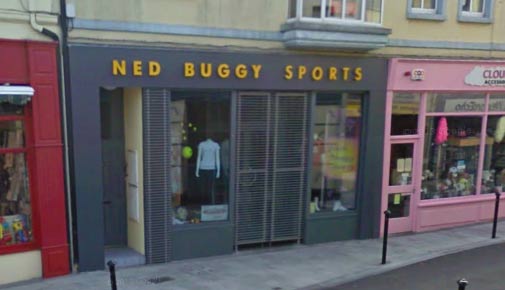 In 1981, former Wexford hurler Ned Buggy opened up his first sports shop in Cinema Lane, which is just up the road from the Commodore Barry statue on the quay front. In the early nineties, he expanded his business by setting up this shop in Selskar. Unfortunately, he was forced to close this particular store after he found it increasingly difficult to keep both of his outlets open.
Lava Lounge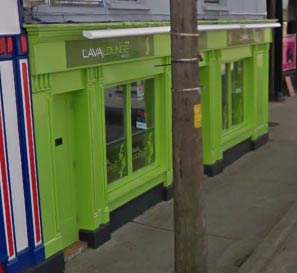 The Lava Lounge was a nightclub that was situated on Wexford's quay front. Unfortunately, it became another victim of the recession when it was forced to close its doors due to dwindling crowds and some fierce competition from The Centenary Stores, which was right beside it.
Kelly's Bakery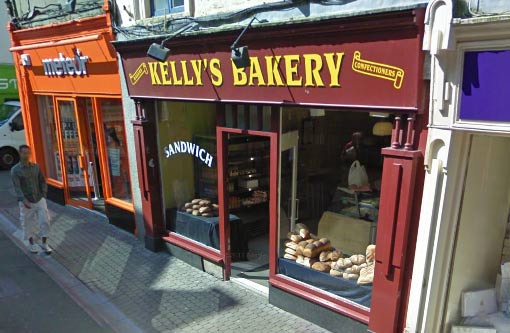 After 100 years on Wexford's Main Street, Kelly's Bakery closed down their shop in order to fully concentrate on their wholesale business. Before they moved to this store opposite the St. Iberius Church, Kelly's Bakery was situated close to where Lifestyle Sports is today. Nowadays, this premises houses an old fashioned sweet shop.
Furlongs Butchers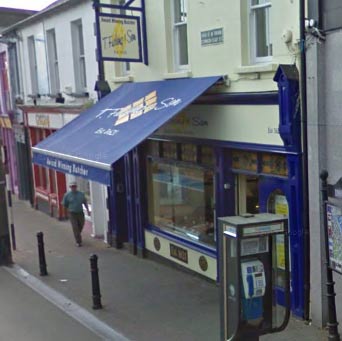 Furlongs Butchers in the Bull Ring was forced to close in 2014 after it suffered a "slow and agonising death" because of the introduction of nearby double yellow lines. According to the owner, Paul Furlong, the double yellow lines turned the area into a hot spot for traffic wardens, which eventually caused "business to taper." The family had been trading in the Bullring for 114 years.
Springsteens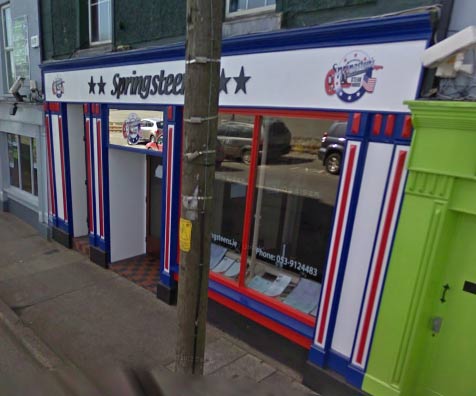 Springsteens was an American-style steak-house restaurant that was situated on the Commercial Quay. I'm pretty sure that it is now apart of Mooney's.